Renzo's Cafe & Pizzeria (Boca Raton)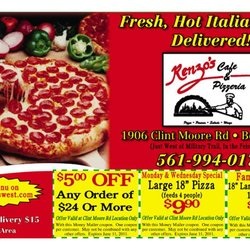 ***** Renzo's Cafe & Pizzeria, 1906 Clint Moore Road, Boca Raton, Florida 33496 (561) 994-0170.
In Boca, there are a handful of joints that have the name RENZO's in their "title." Just so there is no misunderstanding here—I'm talking about the Renzo's Cafe & Pizzeria that's right across from Calusa Elementary School on Clint Moore Road.
Okay…you can eat in (there a handful of tables inside and outside)–but, this is basically a takeout pizza joint. A "what you'd expect" red-sauce menu—appetizers, soups, salads, subs, pastas, calzones, pizza, meat-seafood-chicken entrees. You can check the menu/prices at www.renzoswest.com.
Tried this joint the other night and it is really good. "Sampled" a plain old large pizza, veal parm, chicken marsala, linguini-white clam sauce…like, I said really good—especially enjoyed the pizza which was thin-crispy-sweet sauce.
This is a neighborhood joint.
So you WEST Bocaratonians- now know about a really good joint for eat-in/takeout…that is open 7 days a week for lunch and dinner.