The Capital Grille (Miami, Fort Lauderdale, Boca Raton, Naples, Orlando, Palm Beach Gardens, Tampa)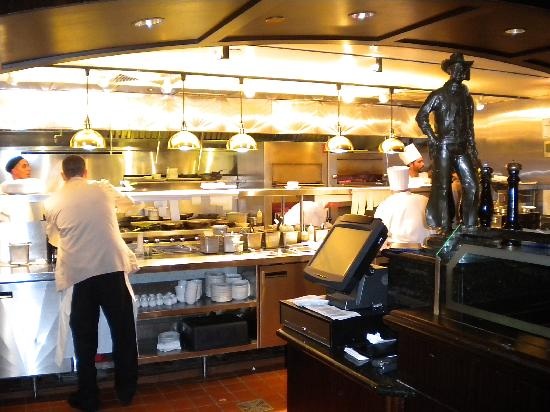 The Capital Grille, 444 Brickell Avenue, Miami, Florida 33131 (305) 374-4500.
This evening, I had dinner in the "upscale-white tablecloth steak-joint"…The Capital Grille located in Miami.
Just so you know, The Capital Grille which has something like 32 locations in the United States is owned and operated by publiclly traded Darden Restaurants which also owns/operates Red Lobster, Olive Garden, LongHorn Steakhouse, Bahama Breeze and Seasons 52 restaurants. The Capital Grille is Darden's UPSCALE STEAKHOUSE CONCEPT.
At this juncture of the review you can check The Capital Grille's website www.thecapitalgrille.com for menu/prices/locations.
Using a $50 gift card from American Express which also included 2 free desserts, I still managed to run-up a $250 tab for dinner for—4.
I'm not going to bother you with details…let's just say, that the food isn't very good…my Delmonico steak was salty and McDonald's has better french-fries…
This joint is a rip-off…overpriced crap.
One good thing to report, we had a waiter, David M. who was outrageously good. He knew the menu inside and out…provided outstanding service and even gave me a full-walking tour of the kitchen.
The Capital Grille does lunch- Monday-Friday and dinner Monday-Sunday.
Don't waste your time.
***As a postscript to the above…two days after eating at The Capital Grille, I contacted Darden's corporate offices and advised the President's Office of what a lousy meal I and my party had had. Various information was exchanged and I was assured that the individual who oversaw the South Florida Region would personally contact me to discuss the matter. Just wanted to let you guys know, that it is now July 20, 2015 and to date, I have not recieved a phone call, letter or any form of communication from anyone at Darden. Obviously, this public company couldn't give a rats-ass about what I think about their operation. This…should give you a heads-up about what this chain's customer service may-be all about.