Brewzzi (Boca Raton & West Palm Beach)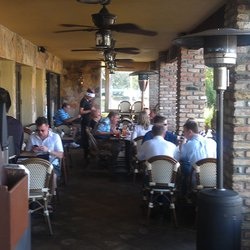 ***** Brewzzi, 2222 Glades Road, Boca Raton, Florida 33431 (561) 392-2739…700 South Rosemary Avenue, West Palm Beach, Florida 33401 (561) 366-9753.
Brewzzi "calls" itself…"Italian American Bistro And Microbrewery." There are 2 Brewzzi restaurants, one in Boca Raton, one in West Palm Beach. Over the years, I must have eaten in the Boca joint something like 10 times…I have not been to the West Palm Beach location.
Brewzzi is a great looking-casual restaurant. There is both indoor and outdoor patio seating. Check its website at www.brewzzi.com for menu/prices/photos.
Brewzzi reminds me a whole-lot of The Cheesecake Factory- in that it has something for everybody.This joint's menu is packed and I do mean packed with appetizers, soups, salads, wraps, sandwiches, burgers, pastas, pizzas, meat/seafood/chicken entrees, desserts…and home-made beers.
Now let's talk food…recently tried, caesar salad, meat-loaf, chicken parmigiana, lobster ravioli, bacon cheeseburger, french fries…all GOOD, Nothing really stood-out, but all in all, the meal was pretty decent. Service was good. Prices were very reasonable.
Let me do it this way…Brewzzi's food is better than chain-operators like TGI Fridays, Ruby Tuesdays, Applebee's, Chili's, Duffy's, Olive Garden, You-Name It Ale House…it is not even close to The Cheesecake Factory and your favorite-neighborhood pizzeria probably makes better stuff.
So that's the skinny on Brewzzi which is open Sunday-Thursday 11am-10:30pm and Friday-Saturday 11am-11:30pm.