Abe & Louie's (Boca Raton)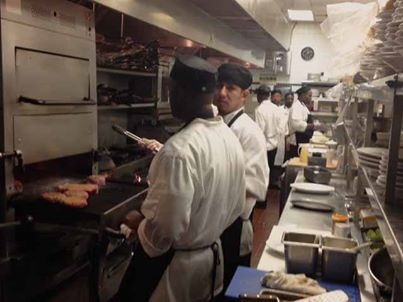 Abe & Louie's, 2200 West Glades Road, Boca Raton, Florida 3343 (561) 447-0024.
Abe & Louie's is an "upscale-white tablecloth" steakhouse. There are currently two locations, Boca Raton and Boston. Let me send you to its website www.abeandlouies.com for menu/prices…there are also photos, so you should have a pretty good idea as to what this joint is all about.
Steady readers know, that my main "problem" with these type of joints, is that they "are usually full of themselves"…most of the time- the food is pretty decent, but the prices are extremely high and the service is often pretentious and condescending.
Now let's talk about a recent dinner for two at Abe & Louie's…
On a recent Saturday (8:30pm) we arrived "reservation-less"…the joint was packed to the rafters, BUT the very pleasant hostess found us a table in the bar-area where seating was on a "first come-first served" basis… We had an excellent waitress who knew the menu inside-and-out…Our order, onion soup ($8), caesar salad ($8), bone-in rib eye steak 24oz ($42), bone-in filet mignon ($45), onion strings ($8) and sauteed mushrooms ($8)…
Now about the food…the onion soup was salty, the caesar salad was just fine, the bone-in-rib eye was stringy and tasteless, the bone-in filet was delicious but ridiculousy small, the onion strings and sauteed mushrooms were good and could have served four people.
So…what do we have here? Let's start with the bill…do the math, with 6.5% tax and 20% tip that's over $150 and we drank tap-water and had no desserts. Service,  very good. Food, passable.
For sure, you can "finesse" what you order and come in with a slightly lower tab…but I  really don't enjoy using a calculator when I eat out.
Abe & Louie's is open Sunday-Friday 11;30am-11pm and Saturday 11:30am-midnight.