The Bronx Wanderers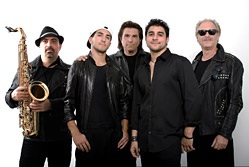 *****  The Bronx Wanderers  *****
I recently saw an absolutely phenomenal… Frankie Valli & The Four Seasons/Dion & The Belmonts' tribute band called The Bronx Wanderers. In addition to featuring the hit-songs of these two legendary groups, The Bronx Wanderers have an enormous playlist of rock 'n roll/disco hits from the 1950's-1970's. If "seeing is believing," check-out the group's website at www.thebronxwanderers.com where you will find terrific audio/video of these guys in action.
Watching this 5-member band, was like having Frankie and Dion right in front of the crowd. Amazing covers. Just so you know, these guys are also no slouches when they play the hits of such bands/acts (a partial list, in no particular order) as Jay & The Americans, Johnny Maestro & The Brooklyn Bridge, The Bee Gees, KC & The Sunshine Band, The Monkees, Neal Diamond, The Duprees, The Capris, The Beatles, The Classics, The Village People, Santo & Johnny, The Commodores and The Trammps.
The only "problem" with The Bronx Wanderers is that they are a New York based group. They very rarely get-down to South Florida… as most of their appearances are in New York and New Jersey.
Now for the good news…If you check The Bronx Wanderers' "schedule"…you will find that the band has a number of South Florida dates in (now get this) January, 2010. I know it's a long way-off…but if you can swing it, you definitely want to see this group in action.
If you like the music of Frankie Valli & The Four Seasons–Dion & The Belmonts…you will absolutely love The Bronx Wanderers.