Papa Hughie's Seafood World & Marketplace (Lighthouse Point)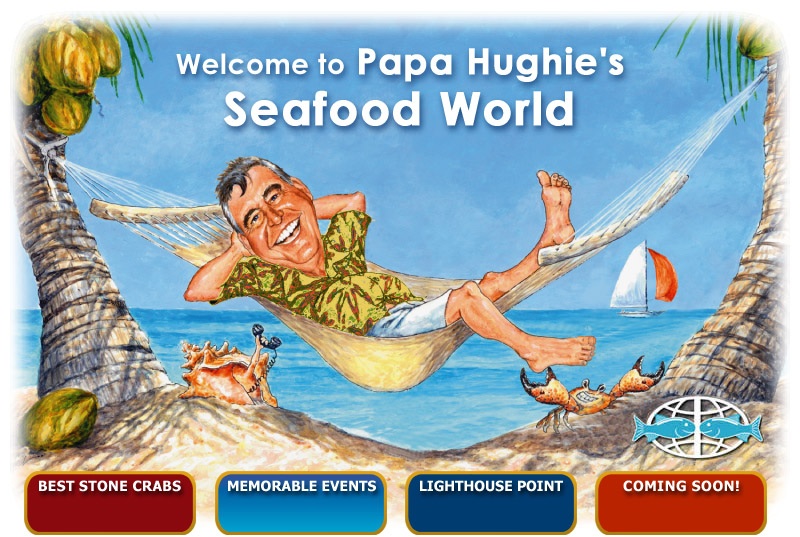 *****  Papa Hughie's Seafood World & Marketplace, 4602 North Federal Highway, Lighthouse, Florida 33064 (954) 942-0740.
Papa Hughie's is a "real-casual seafood joint" which seats something like 75…in addition to its 20 or so tables, Papa Hughie's has a seafood market where both fresh and frozen stuff is sold. If you take a look at this joint's website at www.seafood-world.com you will find menu/prices and photos which will give you some idea as to what this combination restaurant/market looks like.
Just so you know…if you are not a fish/seafood eater, this joint is probably not for you…Papa Hughie's has exactly 3 things on its menu for you guys…filet mignon, chicken fingers and blackened chicken. On the other hand, seafood-lovers, will be like "pigs in sh@t."… appetizers, soups, salads, pastas, entrees.
A recent food "sampling" found…delicious crab-cakes, conch fritters, calamari marinara, snapper franciase and fried oysters. Entrees come with a house salad, vegeatble and potato/or rice.
If you like great seafood and enjoy eating it in tee shirts and shorts…you got to try Papa Hughie's. The joint is open Monday-Saturday 11:30am-10pm and Sunday 3pm-9pm.