Havana (West Palm Beach)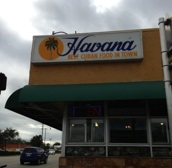 *****  Havana, 6801 South Dixie Highway, West Palm Beach, Florida 33405 (561) 547-9799.
Havana is a terrific Cuban joint. Check its website at www.havanacubanfood.com for menu/prices/details.
I have been stuffing my face at this joint for years. Not certain on the number, but I probably have eaten at Havana something like 15 times. Havana which has been around since 1993, has a 2-story dining room which is open Sunday-Thursday 11am-11pm and Friday-Saturday 11am-1am…The joint also has a take-out window that is open 24 hours.
Havana's menu is loaded with appetizers, soups, sandwiches, entrees and desserts. I can't remember them all… but the chicken fajitas, flank steak, Cuban sandwich and spicy hamburger are some of my favorites.
Havana's food is terrific…The prices are right…The decor is Cuban (whatever that is?)…The service is good…Tee shirts/shorts are just fine…The joint's hours are great.