Kyojin Buffet (Fort Lauderdale, Boca Raton, Lauderhill & Miami)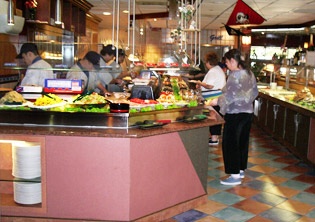 *****  Kyojin Buffet, 3485 North Federal Highway, Fort Lauderdale, Florida 33306 (954) 568-2208.
Kyojin Buffet is a Japanese/Chinese buffet-joint…which currently has 4 locations,  Fort Lauderdale, Boca Raton, Miami and Lauderhill…I have eaten in the Boca Raton and Fort Lauderdale restaurants a combined total of 9 times… If sushi is your game, the buffet is loaded with choices…plenty of soups, meat-seafood-chicken dishes, not to mention desserts…there are also guys working habachi grills, who will make you all the bbq ribs-chicken-steak-shrimp that your little heart desires. The food is pretty decent… but it won't make you forget your favorite Japanese or Chinese joint…the joints are kept exceptionally clean and the buffet is constantly replinished.
Take a look at Kyojin's website www.kyojinbuffet.com for menu/pricing/locations. Kyojin is open 7 days a week for lunch and dinner…by the way, this isn't one of those "bargain" buffets…lunch and dinner prices differ, but figure on spending around 25 bucks or so for the dinner buffet. One final observation…everytime I have eaten at Kyojin, it has been packed…which leads me to believe that a whole lot of people like the food and consider it a bargain for the money.