Giovanni's Coal Fire Pizza (Parkland)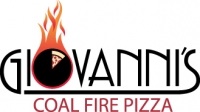 *****  Giovanni's Coal Fire Pizza, 7625 North State Road 7 (Waterway Shoppes), Parkland, Florida (954) 345-9282
In recent years, coal
fire pizza/chicken-salad joints  have  been popping up all over Southern Florida. In past writeups I have told you about Anthony's, Red Rock and Coal Mine.
Tonight, I stuffed my face in Giovanni's which opened about 6 weeks ago. Let me start by telling you, that in addition to coal fire pizza/chicken and salad, this joint has other stuff like pastas, meatballs, chicken parmigiana, all kinds of desserts and a wine list that is seemingly endless.
Now let me tell you the gory details. Tonight I "sampled" the Italian Salad, Caprese Salad, Ricotta & Meatball Pizza, Coal Oven Roasted Chicken Wings and the San Genero Feast (cheese ravioli, meatballs and chicken parmigiana). Sensing that my shorts were starting to feel a bit tight, I reluctantly  passed on the dozen or so desserts that Giovanni's features.
The food is terrific. The service is terrific. Owners John and Ted eyeballed "every" item that came out of the 3 coal ovens/kitchen. As for prices, no more expensive than your favorite neighborhood Italian restaurant.
The joint is done in brick-walls, black ceiling with an open kitchen. There is a separate bar area and enough flat screen tvs to keep the sports crowd happy. An outdoor patio featuring a gorgeous "man-made" lake was jammed with diners enjoying an absolutely gorgeous South Florida Daylight Saving Night.
This joint is a home-run. Try it…Giovanni's is open 7 days a week for lunch and dinner.