Tempura House (Boca Raton)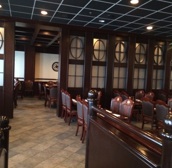 Tempura House
9858 Clint Moore Road
Boca Raton, Florida 33496
(561) 883-6088
Tempura House serves both Japanese and Chinese food.
Now, let me tell you a little story.
Every year, Spanish River High School which is located in Boca Raton, holds an auction to raise funds for various school activities. Members of the PTO (Parents-Teachers-Organization) literally spend months "going" to various merchants in the "area" requesting merchandise and services as donations for the AUCTION. I recently learned "first hand," about one student's mother who (last year) "went" to Tempura House (which by the way, is frequented by many families who have children at Spanish River High School) seeking a "gift certificate" and was told by the "same man" on 3 different occasions that, "She should come back when the owner was in." Let's make this story "short. Suffice it to say, the mother never got a gift certificate and the "same man" was in fact Tempura's owner.
Now I ask you: Do you really want to eat in this joint? I know that I don't.
End of story.