DISH OF THE WEEK (Sunday- 11/19/23- Friendly's- Orlando)
* DISH OF THE WEEK (Sunday- 11/19/23- Friendly's).
One of Jeff Eats' favorite menu items…
CHEESE SKIRT BURGER
(14.49- flat top-grilled beef patty on a Brioche bun topped with crispy Monterey Jack and Cheddar cheese skirt/ 1000 Island dressing/ lettuce/ onion/ tomato/ pickle chips with side of french fries)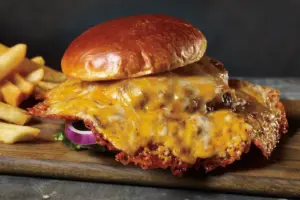 Friendly's
8718 International Drive
Orlando
(407) 345-1655
friendlysrestaurants.com
Latest Review: N/A
Trust Jeff Eats on this one, this cheeseburger is absolute dynamite!
You guys can check friendlysrestaurants.com for Florida menu/ prices/ locations (the location reviewed below closed a number of years ago).
Friendly's is open, Sunday-Thursday 11am-10pm/ Friday-Saturday 11am-11pm.
Posted on 12/2/06
***** Friendly's
14701 Military Trail
Delray Beach, Florida 33484
(561) 498-8873
If you check "Stocks", back on August 2, 2006 I did a "writeup" on Friendly's Ice Cream Corp. Rather than going into the "gorey details," suffice it to say, that the writeup indicated that Friendly's Ice Cream Corp, (a publiclly owned company), was a mismanaged restaurant chain that despite itself, could be a "stock play" based on its real-estate and "turn-around" possibilities.
Now let's "talk" about the brand new Friendly's location that opened a few weeks ago in Delray Beach.
This new Friendly's is owned and operated by a guy named Noah Lewinger. From what I understand, this is Lewinger's first Friendly's franchise location and that he has plans to open an additional 13 stores in Palm Beach/Broward counites.
Now, I maybe really going out on a limb here, but based on 5 visits (2 in the evening and 3 in the afternoon), Mr. Lewinger may actually KNOW HOW TO REALLY RUN THIS TYPE OF A JOINT.
Friendly's is open 7 days a week, Sunday-Thursday 7am-11pm and Friday-Saturday 7am-midnight.
Lewinger's Friendly's, is a big, beautifully designed store. It is clean, well staffed and well run. To date, I have had "Friendly's Big Beef Burger," "Chicken Cobb Salad," "Chicken Parmesan SuperMelt," Chicken Wrap" and Steak Fajita Quesadillas. In addition I "consumed" 3 "Friend-Zs" (they are similar to Dairy Queen's Blizzards) which are soft-serve ice cream/whipped together with your choice(s) of topping. Just in case "we" go on the Dating Game TV Show, "you" should know that my favorite combination is chocolate soft serve and Heath Bar.
If you live in the Delray Beach area, give THIS Friendly's a try. It has a "basic" diner menu at diner prices…and I "must" tell you, the food was terrific.