Win A $10 Whit's Frozen Custard Gift Card
This contest started on 9/22/23. This contest has a winner.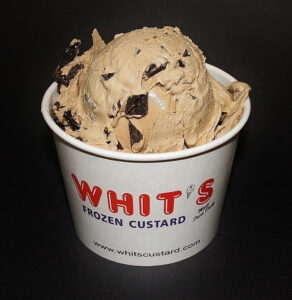 * Win A $10 Whit's Frozen Custard Gift Card.
Jeff Eats got a $10 Whit's Frozen Custard Gift Card to give to one of you guys…
The game- the first 10 "reader-comments" received – will be entered in a "blind hat pick"! You can submit as many comments as you'd like but- Please, only 1- reader comment – per day…play fair!
The $10 Gift Card is good at any Whit's Frozen Custard location.
You guys can check – whitscustard.com for locations, menu/prices, info.
Posted on December 1st, 2019
***** DISH OF THE WEEK (Sunday- 12/1/19- Whit's Frozen Custard).
One of Jeff Eats' favorite menu items…
2 SCOOPS WAFFLE CONE
$6.00
Whit's Frozen Custard
3551 North Federal Highway
Boca Raton
(561) 465-3428
whitscustard.com
Latest Review: 12/1/19
Yesterday- Jeff Eats and Mrs. Jeff Eats "discovered" Whit's Frozen Custard and all I can tell you- is if you like frozen custard- you will absolutely love this joint. Simple concept- order/pickup at counter, inside table & wall counter seating, very reasonably priced vanilla/chocolate/rotating daily and monthly flavors/toppings/shakes-malts menu, open 7 days a week noon-10pm, currently 51 U.S. store-chain with a handful of Florida joints- Boca Raton store opened in October,2019.
Let me wrap-up Whit's Frozen Custard by saying that its custard is made fresh daily and is absolutely delicious!
Check store locations/menu/info at whitscustard.com.