DISH OF THE WEEK (Sunday- 6/4/23- Jamaica Kitchen- Miami)
***** DISH OF THE WEEK (Sunday- 6/4/23- Jamaica Kitchen).
One of Jeff Eats' favorite menu items…
FRICASSEE CHICKEN
($15 lunch- chicken/side of rice/plantains)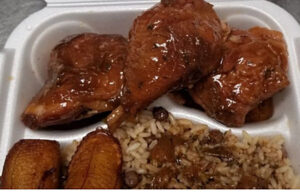 Jamaica Kitchen
8736 Southwest 72nd Street
Miami
(305) 596-2585
jamaicakitchen.com
Latest Review: 3/10/14
This joint's food is outrageously delicious!
Posted on March 10th, 2014
***** Jamaica Kitchen, 8736 Southwest 72nd Street, Miami, Florida 33173, (305) 596-2585.
Right off the bat, this Jamaican hole-in-the-wall "fast food" joint- is an absolute must try…maybe its got 1 table that seats-4 and a handful of counter-seats–so don't expect to be entertaining your future in-laws there–or holding a bridal shower, or something like that!
I think that you guys know or should know by now, that Jeff Eats is always "straight" with you…unlike many food "critics"- "bloggers"- "so called experts"- my sole goal is to find cool joints that are banging out delicious food. I really have no interest in the "hows and whys" the food got made.
Anyway, back to Jamaica Kitchen…
A number of years ago, Mrs. Jeff Eats "forced" me to do a 7-day Caribbean cruise with our kids. The two dolls (back then aged 11 and 4) played so much BINGO on the cruise, that when they got home to Boca Raton, they wanted to become Catholics…On that same cruise, Jeff Eats treated "himself" to a $5 tee shirt that said "We Be Jammin'"– Rather than going into a long winded story, let's just say- that Jeff Eats' knowledge of Jamaican cuisine–is kinda on the limited side–after-all, curry goat, curry ox-tail, jerk chicken weren't exactly Thursday night staples at my mother's Brooklyn kitchen table in the 1950s-1960s.
With that in mind, the other day I ate at Jamaica Kitchen and I gotta tell you-that the stuff served-up was fabulous. Now nothing for nothing–Jeff Eats doesn't have a huge "file" to compare the "tried" jerk chicken/curry shrimp/fricassee chicken/mild beef patty- with…but I am telling you, the food was DELICIOUS.
From what I understand, Jamaica Kitchen (which has been around for something like 32 years) is owned by a Chinese husband-wife team who were raised in Jamaica…that's the reason why- Jamaica Kitchen's menu has both Jamaican and a handful of Chinese dishes like -Chinese roast chicken and suey mein listed.
Finally-you should know…Jamaica Kitchen is kind of a famous "hole in the wall." When you check its website, www.jamaicakitchen.com for menu/prices you will find a number of newspaper/magazine articles and a September 2008 Food Network segment- where Guy Fieri of "Diners, Drive-Ins & Dives" gives the joint a rave review.
Like I said at the top of this tale, Jamaica Kitchen is an absolute must try.
Jamaica Kitchen is open Monday-Saturday 11am-8pm, closed on Sunday.