Roll The Stones / Saturday, March 18th, 2023 (Galuppi's-Pompano Beach)
Originally posted on March 7th, 2023.
* Roll The Stones.
Love this band!
Trust Jeff Eats on this one- These guys absolutely kill!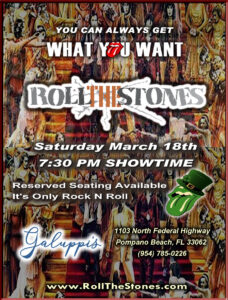 From galuppis.com:
Experience a flashback to the songs that were… the soundtrack of your lives. Younger listeners appreciate the energy and power of the iconic songs that made the Rolling Stones a lasting force in popular music.
This band is not your average look-a-like tribute band but rather all about putting on a super high energy rock & roll show based around the hall of fame songwriting team of "The Rolling Stones". Influenced by Blues, R&B, R&R and all great music from the decades., this more than simply a tribute act playing the best of the Rolling Stones' catalogue from the '70s and '80s. Possessing a similar energy to the Rolling Stones' phenomenal live sound, capturing the power and excitement of those now legendary stadium tours with all the big hits and a wide selection of rarities sure to please casual and hard core Stones fans alike
This entertaining show is based around the hall of fame songwriting team of "The Rolling Stones" – aka The World's Greatest Rock 'n Roll Band! You'll hear to all your favorites such as Satisfaction, Paint it Black, Beast of Burden, She's so cold and many more that will get you dancing and singing in front of Galuppi's brand new stage all night long!
Tables are available on a first come first serve basis until they are all filled. No cover charge.
Band boxes (table reservations) are available for an added extra charge by reserving a table online.
Outside food, beverages and lawn chairs are not permitted.
For reservations/menu/prices check galuppis.com.
———————————————————————
Posted on August 10th, 2008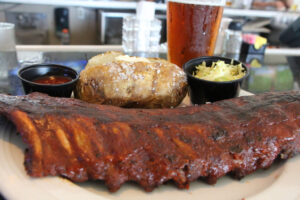 ***** Galuppi's, 1103 N. Federal Highway, Pompano Beach, Florida 33062 (954) 785-0226.
Last night, I had an absolutely terrific time at a joint named Galuppi's in Pompano Beach. Just so you know, Galuppi's which calls itself "Galuppi's Restaurant, Patio Bar & Banquets" is actually located on the public Pompano Beach Golf Course… the view from its out-door patio of the course is absolutely amazing.
Galuppi's is basically a restaurant/catering facility. There is a small indoor restaurant that has a large sit-at-bar, 4 booths and maybe a half-dozen hi-tops…outside, there is another sit-at-bar and loads of tables…there is also a banquet room attached to the restaurant that can be used for private parties or for restaurant customers. Now, to put this whole layout in perspective…go to Galuppi's website at www.galuppis.com where you will find actual pictures of what I have been blabbing about, along with menu/prices/and other details.
Last night, Galuppi's which does lunch and dinner 7 days a week and brunch on Sunday had The Beatles' tribute band "Anthology" performing from 8pm-midnight. Suffice it to say, this joint was absolutely packed… the restaurant-the banquet room-the outside bar/patio…the band was on a small stage on the patio and I'll bet you that from 8:30pm-10:30 pm (time I was there) there were at least 500-600 people maybe even more, eating…drinking…dancing. I am telling you, it was an absolutely great "party." By the way, there was no cover charge or minimum…so for the price of a meal or a drink…or for that matter, just walking in…got you into this "concert."
Just a quick note, "Anthology" was terrific. They were dressed in replicas of The Beatle's Shea Stadium army-uniforms and had the requisite Beatle haircuts…they did some great covers of The Beatles' hits. The group is extremely personable and their interaction with the crowd had the joint really jumping. Their faux British accents which came and went all evening long, added to the fun…and yes, they even have a left-handed bass player. You can check "Anthology" out at www.myspace.com/fab4anthology. I guarantee that based on last night's action, Galuppi's owners will have "Anthology" back for another gig in the very near future.
I already gave you this joint's website…take a look at its menu. There are plenty of appetizers, salads, burgers, sandwiches, entrees and desserts to keep everyone busy…By the way, the prices are very reasonable and last night our waitress Bobbi-Lynn was absolutely terrific despite the fact that the joint was absolutely packed (and I do mean packed). Last night I had babyback ribs, I also sampled the crab-cakes, snapper francaise and steak kabobs. The food is real-decent. Personally I would put it about "1-notch" above the stuff you get in your typical neighborhood sports bar. Just so you know, Galuppi's also has tons of flat screen tv sets inside and outside…Last night every set was tuned to the Olympic Games, so if "The Beatles" weren't your game, you could scream for the American swimmers.
One thing that I found interesting…the banquet room has sound-proof glass. Amazingly, while eating in the room, you couldn't hear the out-door crowd or the band at all.
Galuppi's is open for lunch and dinner 7 days a week and for brunch on Sunday. According to its website, the joint has all kinds of entertainment and "specials"…so If you want to try Galuppi's, I would suggest that you "call ahead" to find out "what's on tap" (pun intended).