Funny Women Of A Certain Age/ February 20-22, 2023 (Delray Beach Playhouse- Delray Beach)
Originally posted on September 27th, 2022.
* Funny Women Of A Certain Age.
Tickets Just Went On Sale!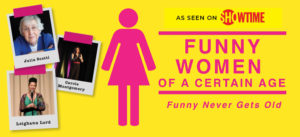 From delraybeachplayhouse.com:
Delray Beach Playhouse
950 NW 9th St. Delray Beach, FL 33444
Box Office: (561) 272-1281 Ext. 5
Tickets: delraybeachplayhouse.com
ALL TICKETS $49
** LUNCH BOX MATINEE
Direct from SHOWTIME, Now Live on Tour!
Funny Women Of A Certain Age
Monday, February 20, 2023 @ 1:00 pm
Tuesday, February 21, 2023 @ 1:00 pm
Wednesday, February 22, 2023 @ 1:00 pm
"If I had to choose between ageism or sexism, I'd take a pat on the behind any day, since that meant someone noticed me."
Carole Montgomery creator of Funny Women of A Certain Age What began as a way to work with her friends has exploded on the comedy scene. When Carole (a veteran of the stand up scene for over 40 years) started, you would never see two female comics on the same show. Fast forward to today's comedy scene and nothing has changed, even though there are way more women in comedy. Funny Women or WOACA was created to give older women comics a chance to be seen and heard. Frustrated with how women are portrayed on television once they hit 50, Carole decided to do something about it. She's fighting ageism AND sexism one joke at a time. The women who appear in WOACA are all funny, vibrant and brilliant, they just happen to be of a certain age. These women paved the way for the female comics you see today. The first TV special for the Showtime Network featured Fran Drescher, Carole Montgomery, Luenell, Lynne Koplitz, Vanessa Hollingshead and Kerri Louise. The special premiered March 23rd, 2019 and it made TV history as the first comedy special to feature 6 women over the age of 50.
In fact the special was the network's highest rated premiere of a stand up show for 2019! The second Showtime special More Funny Women Of A Certain Age premiered March 14, 2020 to huge viewership. It stars another round of comedy greats. Caroline Rhea, Carol Leifer, Tammy Pescatelli, Julia Scotti and Thea Vidale.
The third special was taped in Los Angeles at the Irvine Improv during a global pandemic and premiered November 24th 2021. It features Teri Hatcher, Marsha Warfield, Wendy Liebman, Monique Marvez and Leighann Lord. All three specials prove that indeed #funnynevergetsold The specials are produced by Killer Bunny Entertainment. Executive producers are Carole Montgomery, Dave Goldberg and Rob Cea. Carole was featured in The Interrobang online magazine as one of the Top 10 Innovators in Comedy for 2019. Currently WOACA has a monthly residency in NYC at the Kraine Theatre going on its fifth year. WOACA was a featured show in the NY COMEDY FESTIVAL and was recently featured on the Today Show with Hoda & Jenna.
About Carole Montgomery:
With over 2 dozen television credits to her name, CAROLE MONTGOMERY is a respected veteran of the standup comedy scene nationwide. In addition to her numerous television appearances, Carole has headlined clubs & colleges across the USA and starred in 2 different Las Vegas production shows. In her ten years as a LAS VEGAS STAR, it is estimated that she has been seen by over 5 million audience members. Carole created the live stand up comedy show FUNNY WOMEN OF A CERTAIN AGE featuring female headliners over the age of 50 in 2017. The show was such a success that it was filmed for the Showtime network. It was the network's highest rated comedy special for 2019 and it made TV history as the first comedy special to feature 6 women over the age of 50. The following year MORE Funny Women Of A Certain Age premiered with huge viewership. EVEN MORE Funny Women Of A Certain Age premiered Thanksgiving Eve 2021. Carole is also an accomplished director & producer. She directed Jim Florentine's solo show I'm Your Savior currently airing on Amazon Prime. She is currently developing a new solo show with activist and comedian Kaytlin Bailey called Whore's Eye View. Carole is proudest of her 11 comedy tours for Armed Forces Entertainment. Her NY Underground Comedy Allstars have performed in Iraq, Haiti, Kosovo, Holland, Kuwait, Diego Garcia, Singapore, Honduras, El Salvador, South Korea and Germany to rave reviews. Carole was also a featured performer at the MONTREAL JUST FOR LAUGHS, BOSTON & NY COMEDY FESTIVALS.
About Leighann Lord:
Leighann Lord is a veteran standup comedian who has appeared on HBO, Comedy Central, The View, Netflix, and Showtime's "Even More Funny Women of a Certain Age." Her Dry Bar Comedy special has had over one million views. The Wall Street Journalcalled her People with Parent Podcast one of the 10 Podcasts for Older Adults That Promise to Entertain—and Enlighten. Leighann (winner of the AHA Humanist Arts Award) is the author of several humor books including: Dict Jokes and Real Women Do it Standing Up, available on Amazon.
About Julia Scotti:
Julia Scotti is a remarkably busy lady. In addition to performing standup in top venues coast to coast, you may have seen her on the "Today Show with Hoda and Jenna" and on Showtime where she was featured on the "More Funny Women of a Certain Age" special. Or, it might even be in, Susan Sandler's acclaimed documentary "Julia Scotti; Funny that Way" now streaming https://geni.us/JuliaScottiFilm. You can see Julia starring as Joy in the short film drama "Relatable Joy," in Judd Apatow/Universal Pictures film "Bros," starring Billy Eichner and will also be seen in the upcoming film tentatively titled "Untitled Pregnancy" with Ilana Glazer and Michelle Buteau. As if that weren't enough, her latest comedy album for 800 Pound Gorilla Records titled "Primal Cuts" is out now and her Dry Bar Comedy Special is coming soon. Her first album "Hello Boys, I'm Back!" is still climbing and available for download. Her press kit continues to grow monthly with the latest being a featured interview in HUSTLER Magazine October 2021 issue. Simon Cowell said, "you genuinely made me laugh!" and Julia continues to remain a fan favorite of America's Got Talent audiences around the world. She has been named one of the Top Five Transgendered Comedians in the Country by Advocate Magazine.
1 Lunch choice per Lunchbox Admission
Please look over the menu below and make your lunch selection by typing it in the remarks section which is located on the next page at checkout right below the payment information section.
Lunchbox menu options:
#1 Tuna Fish Sandwich
#2 Roast Beef Sandwich
#3 Corned Beef Sandwich
#4 Turkey Sandwich
#5 Veggie Wrap
#6 Chicken Caesar Salad
Each lunch option includes: 1 sandwich on seedless rye bread, 1 side of coleslaw, 1 pickle, 1 black & white cookie and 1 bottled water. Salad option does not come with pickle and coleslaw. The Veggie Wrap is on a whole wheat wrap.
If you do not want bottled water, please make your substitution option for choice of drink in remarks section at checkout. Your options are:
Coke, Diet Coke, Sprite or Ginger Ale
Just a taste…