Win A $10 Jet's Pizza Gift Card
This contest started on 12/8/22. This contest has a winner.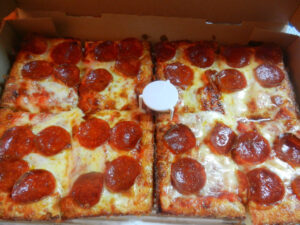 * Win A $10 Jet's Pizza Gift Card.
Jeff Eats got a $10 Jet's Pizza Gift Card to give to one of you guys…
The game- the first 10 "reader-comments" received – will be entered in a "blind hat pick"! You can submit as many comments as you'd like but- Please, only 1- reader comment – per day…play fair!
The $10 Gift Card is good at any Jet's Pizza location (jetspizza.com for locations, menus, prices, info).
———————————————-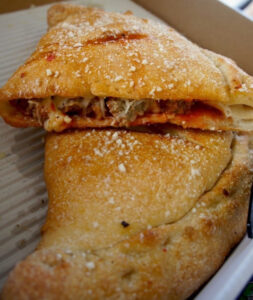 Posted on September 6, 2015
***** DISH OF THE WEEK (Sunday- 9/6/15).
One (actually I should say two) of Jeff Eats' favorite menu items…
SIGNATURE 8 CORNER PIZZA
$12.99
&
JET'S BOAT
$8.99
Jet's Pizza
8903 Glades Road
Boca Raton
(561) 852-5700
jetspizza.com
Latest Review: 9/6/15
Jet's Pizza is a national "takeout" pizza chain. I'm thinking that it currently has something like 350 stores in 17 maybe 18 states.
Last week, Jeff Eats "tried for the first time and took-out twice" from the Jet's Pizza which opened in Boca Raton-3/15. Night #1 it was the Signature 8 Corner Pizza, Night #2 it was the Signature 8 Corner Pizza with pepperoni and a Jet's Boat (think calzone and you'll be thinking right- stuffed with mozzarella cheese, pizza sauce, sausage, pepperoni and topped with butter/Romano cheese- $8.99) and I gotta tell you, the pizza and boat blew me away. No ifs, ands, or buts-one of the best "calzones" that I've ever had- as for the pizza, think Sicilian/deep dish and it was absolute dynamite. Just between you guys and Jeff Eats, if Mrs. Jeff Eats let me-do this joint twice in one week, the food had to have killed! Trust me, the lady…before I get in trouble here, let's just leave it- that the food killed!
Like I said, Jet's is a national takeout pizza chain. Some stores have seating, the one in Boca Raton -no seating. By the way, there are a ton of Jet's Pizza joints in Florida- you can check jetspizza.com for locations/menu/info. Just between you guys and Jeff Eats- this Jet's Pizza is one-hot franchise with a huge number of stores currently In development!
Let me wrap this up for you, that Signature 8 Corner Pizza and Jet's Boat were terrific. Jet's also has other types of pizzas, salads, wings, subs- so there is plenty of stuff to choose from.
Look!
Jeff Eats knows his crowd- and right about now, some of you guys must be saying…Hey Jeff, you-losing your freaking mind or what? This Jet's is a takeout chain and these kind of joints make cheap garbage-so you been smoking or something?
Putting the "smoking" aside for the moment,
Jeff Eats and Mrs. Jeff Eats LOVED the pizza and the boat…
I'm telling you guys, give this chain a shot!