Trader Joe's Fresh Squeezed Lemonade (Trader Joe's-Delray Beach)
***** Trader Joe's Fresh Squeezed Lemonade.
A recent e-mail received by Jeff Eats…
Jeff,
New to Florida.
Two weeks ago my husband and I moved from Nutley, New Jersey to Boca Raton.
Started reading jeffeats.com around the same time and it looks like you got your finger on the food situation down here.
I maybe crazy, but I'd swear that you were in my Junior High School SP Class at Ditmas Junior High School. I also remember going to your Bar Mitzvah at Singer's Hotel.
My maiden name was Kushner.
Am I right on that? If I'm correct, hello! How have you been?
Anyway,
Maybe you can help us out, with something, is there any market in Boca Raton where can we can buy really good fresh squeezed lemonade?
Thanks loads,
Jane
________
Jane,
First things first, yes you and I were in the same SP class for 2 years. If i recall correctly, after junior high school you and your family moved to Marlboro, New Jersey.
Second, I will have Mrs. Jeff Eats contact you and see if the four of us can get together and do dinner one night.
Third, as for the fresh squeezed lemonade, read the story below.
Fourth, here's a $25 Trader Joe's Gift Card.
Welcome to Florida,
Jeff
______________________
Originally posted on July 14th, 2020.·
***** Trader Joe's Fresh Squeezed Lemonade.
If you're into lemonade- then you gotta try Trader Joe's Fresh Squeezed Lemonade!
Trust Jeff Eats on this one, this lemonade is absolutely dynamite- it's the real-deal…its only ingredients- water, sugar, lemon juice and it's unpasteurized.
Just between you guys and me, I can't recall ever drinking a better grocery store-bought lemonade!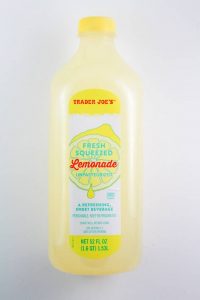 Jeff Eats "discovered" this 52 oz- $3.49 absolute must try grand-slam delicious lemonade- yesterday at Trader Joe's, 1851 South Federal Highway, Delray Beach, Florida 33483, 561-278-1493, Hours: 9AM – 9PM (Mon-Sun).
You guys can check traderjoes.com for locations/product information.