Comedian- Tammy Pescatelli (Boca Black Box – Boca Raton)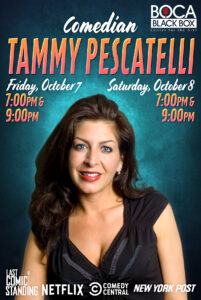 * Comedian- Tammy Pescatelli.
Absolutely brilliant comedian!
Literally just this second, 50% OFF TICKETS WENT ON SALE!
Promo Code: TAMMY50
Just bought 2 tickets!
If you wanna go…
Saturday- August 27th, 2022 (8pm)
Boca Black Box Center for the Arts
8221 Glades Road #10 Boca Raton, FL 33434
Phone: 561.483.9036
Box Office: bocablackbox.com goldstar.com (discount tickets)
Arguably one of the hardest working women in comedy today, TAMMY PESCATELLI brings brassy sexiness with a female voice of witty sarcasm to her audiences, holding her own on the topics of sports, television, dating and family life using tongue-in-cheek humor. She is one of the only female comedians who is relatable to every audience member – male and female. She's been seen on The View, Guy's Grocery Games, and The Howard Stern Show. Tammy was also chosen by Jenny McCarthy & Donnie Wahlberg to be a part of their Dirty, Sexy, Funny franchise that included a hilarious all-female slate of standup comedians comedy special on EPIX/Hulu, a touring show and a pilot for A&E.