The Mersey Beatles Present All The Hits!- Wednesday, 10/5/22 (Delray Beach Playhouse- Delray Beach)
Originally posted on August 13th, 2022.
* The Mersey Beatles Present All The Hits!
Tickets Just Went On Sale!
Don't miss this concert- you'll swear that The Beatles are playing right in front of you!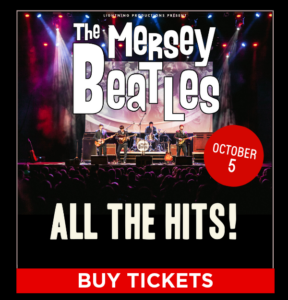 From delraybeachplayhouse.com:
Delray Beach Playhouse
950 NW 9th St. Delray Beach, FL 33444
Box Office: (561) 272-1281 Ext. 5
Tickets: delraybeachplayhouse.com
THE MERSEY BEATLES PRESENT ALL THE HITS!
WEDNESDAY, OCTOBER 5 @ 7:30 PM – 9:00 PM
$49 All Tickets
DIRECT FROM THE GREAT CITY OF LIVERPOOL, ENGLAND…
The Mersey Beatles, back in the USA with their SELL-OUT 2022 show, 'ALL THE HITS!'
The world's most authentic and only LIVERPOOL-BORN Beatles tribute band was the resident band for over a decade at the world famous CAVERN CLUB, where The Beatles got their start. These childhood friends have played in 20 countries, selling out shows worldwide. Experience their natural Liverpool accents, wit, and charm. With no rehearsed scripts, their crowd banter truly captures the original spirit of the Beatles. These talented musicians appear with beautifully designed costumes and replica guitars from all eras!
Every song and every moment are a celebration of the best pop music ever, from the 'Mop Top' hits of Beatlemania, through the psychedelic creativity of Sgt Pepper to the melodic wonder of the Fab Four's later work. All shows are brilliantly brought to life by a band who exude the spirit of the real thing, from the costumes, instruments, Scouse charm and, of course, that wonderful era-defining, Mersey sound.
So, get on board for The Mersey Beatles Tour– presented in the most authentic way you will ever see. It goes without saying you'll have a FAB time!
"The Mersey Beatles have been playing the Cavern Club for over 15 years and are one of the best you will ever see!"
– Julia Baird-(John Lennon's sister)