Win A $25 Jupiter Donut Factory Gift Card Card (Boynton Beach, Jupiter, Lake Worth, Largo, North Palm Beach, Royal Palm Beach, Stuart)
This contest started on 7/30/22. This contest has a winner.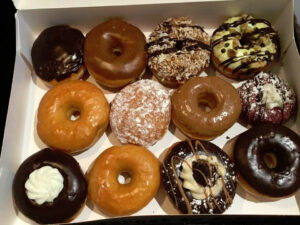 * Win A $25 Jupiter Donut Factory Gift Card. This contest has a winner.
Jeff Eats got a $25 Jupiter Donut Factory Gift Card to give to one of you guys…
The game- the first 25 "reader-comments" received – will be entered in a "blind hat pick"! You can submit as many comments as you'd like but- Please, only 1- reader comment – per day…play fair!
The $25 Gift Card is good at any Jupiter Donut Factory location.
Check menu/prices/locations/info at jupiterdonuts.com.
Posted on August 30th, 2013
***** Jupiter Donut Factory, 141 Center Street, Jupiter, Florida 33458, (561) 741-5290.
Got an absolutely amazing donut-joint for you…Jupiter Donut Factory in Jupiter.
I guarantee- that after eating this joint's- glazed, bacon maple walnut, sour dough, chocolate glazed donuts you'll want to enroll in Jupiter's Police Academy. Being a drop too old to start a new career, Jeff Eats in homage to Jupiter Donut Factory- will henceforth be known as Jeff Eats Andy Sipowitz or JEAS, for short!
No fooling around, Jupiter Donut Factory makes some of the most delicious donuts that I have ever eaten. For sure, this "mom & pop" joint-has bagels, breakfast sandwiches, coffee, smoothies but the game here is DONUTS.
Not to editorialize or nothing, but…once you have had Jupiter's donuts, you'll have a very serious problem eating the stuff that Dunkin Donuts and Krispy Kreme serve-up.
Jupiter Donut Factory is open 7 days a week 6am-2pm.