DISH OF THE WEEK (Sunday- 7/31/22- D & PL Subs- Jacksonville Beach)
***** DISH OF THE WEEK (Sunday- 7/31/22- D & PL Subs).
One of Jeff Eats' favorite menu items…
BONELESS TERIYAKI WINGS APPETIZER
($9.25- crispy boneless wings served with ranch or blue cheese)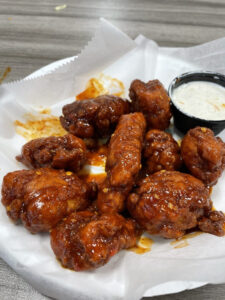 D & LP Subs
1409 3rd Street S
Jacksonville Beach
(904) 247-4700
dlpsubs.com
Latest Review: 8/16/21
This joint is an absolute must try!
Posted on August 16th, 2021
***** D & LP Subs, 1409 3rd Street S, Jacksonville Beach, Florida 32250, (904) 247-4700.
Got a real good Italian joint for you guys to checkout, D & LP Subs in Jacksonville Beach.
Jeff Eats and Mrs. Jeff Eats "discovered" D & LP about a month ago and I gotta tell you, its food was absolutely dynamite…
No frills joint, handful of tables/counter seating- reasonably priced menu loaded with pizzas/salads/pastas/subs/other stuff.
If you guys can keep a secret, I absolutely love joints like D & LP Subs- no drama, no designer decor, no fancy schmancy anything, just reasonably priced delicious food!
You guys can check menu/prices/info at dlpsubs.com.
D & PL Subs is open:
Monday-Thursday
11:00 AM – 10:00 PM
Friday-Saturday
11:00 AM – 11:00 PM
Sunday
12:00 PM – 10:00 PM