An Intimate Evening with ORLEANS (Sport of Kings Theater at Gulfstream Park Racing and Casino- Hallandale Beach)
JUST CHECKED GOLDSTAR.COM AND THERE ARE A HANDFUL OF DISCOUNT TICKETS AVAILABLE FOR TONIGHT'S CONCERT!
Originally posted on November 11th, 2021.
* An Intimate Evening with ORLEANS.
Tickets Just Went On Sale!
————————————————————————————————-
An Intimate Evening with ORLEANS
Thursday, July 21st, 2022 (8pm)
Sport of Kings Theater at Gulfstream Park Racing and Casino
901 Federal Highway, Hallandale Beach, Florida 33009
Tickets:
$35, $45, $65
seasidemusicmgmt.com & gulfstreampark.com
For what it's worth, Jeff Eats went to college with Orleans' legendary lead singer Larry Hoppen…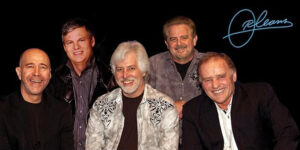 From seasidemusicmgmt.com
About this event
Platinum hit-makers, ORLEANS, celebrated 48 years of live performances in 2020. Praised by their peers for their songwriting skills, instrumental prowess and classic trademark harmonies, their iconic radio hits, including "Still The One", "Dance With Me" and "Love Takes Time," still resonate with audiences of all ages thanks to continued airplay on Classic Rock radio, television, film and streaming services. ORLEANS has produced a body of work spanning 16 albums and several DVDs. They continue to be in great demand domestically and internationally for live shows, as they have been for nearly 5 decades.
Over time, Orleans has enjoyed great success, but has also experienced adversity. The sudden passing of Co-Founder Larry Hoppen in 2012 prompted the return of Co-Founder and former US Congressman John Hall. With John's recent retirement near the end of 2019, Co-Founder Lance Hoppen and longtime mainstays Fly Amero and Lane Hoppen are now joined by Nashville veterans Brady Spencer and Chip Martin on drums and guitar, respectively. Together they faithfully deliver the musical elements you have come to expect from this class act with power and integrity. Since its humble beginnings in Woodstock NY and throughout countless worldwide tours, Orleans has set standards respected by other musicians. In 2020, Orleans will continue to meet and exceed those standards at every show, to the delight of audiences everywhere.