REO Brothers (Boca Black Box- Boca Raton)
Originally posted on June 22nd, 2022.
* REO Brothers.
TICKETS JUST WENT TO SALE!
TRUST JEFF EATS ON THIS ONE- THE REO BROTHERS ARE ONE OF THE BEST 50's-70's TRIBUTE/COVER BANDS IN THE WORLD!
CHECK THEM OUT…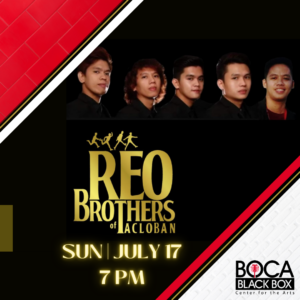 REO Brothers
Sunday, July 17, 2022
(7:00 PM)
Boca Black Box
8221 Glades Road #10
Boca Raton, Florida 33434
Box Office: 561.483.9036
Tickets: bocablackbox.com- check goldstar.com (discount tickets)
from bocablackbox.com
Widely acknowledged as the Philippine's finest Beatle tribute band, the REO Brothers has astonished the music world with their phenomenal success shortly after breaking into Manila's music scene when their hometown of Tacloban was ravaged by Typhoon Yolanda (international name: Haiyan) in November 2013.
8 years after they first broke into Manila's music scene, the band continues to have the same energy and enthusiasm in their performances. They are, after all, still very young- mostly still in their 20s, except the eldest, now 32 years old band drummer- and retain the same zeal and joy for music, as the day they auditioned for a Manila gig.
As 5 real siblings performing separate instruments, the band is a unique phenomenon. There is no other real brothers group like them in Manila or anywhere, except the very successful Osmond Brothers of the 70s. That, in itself, has become an attraction to concertgoers!
The Reo Brothers is a Filipino rock band composed of five brothers. The band performs renditions of music from the 1950s to the 1970s, that of The Beatles, The Beach Boys, The Dave Clark Five, Bee Gees, Gary Lewis & the Playboys, The Lettermen, America, The Ventures, VST & Co., and other prominent bands of the era. The band grew in popularity after they performed at the ABS–CBN Christmas Special 2013 in the Araneta Coliseum. The Reo Brothers band received the only standing ovation that night.
Enjoy an evening singing with the band songs from THE BEATLES, THE BEACH BOYS, DAVE CLARK FIVE, THE BEE GEES, GARY LEWIS, AND THE PLAYBOYS, THE LETTERMAN, THEN VENTURES, AMERICA, and much much more. This is a concert NOT TO BE MISSED.