SPIDEY: MAKE BELIEVE – MAGIC OF YOUR MIND (Mizner Park Cultural Center- Boca Raton, Delray Beach Playhouse- Delray Beach)
Originally posted on August 20th, 2021.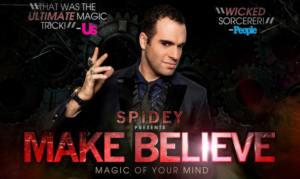 * SPIDEY: MAKE BELIEVE – MAGIC OF YOUR MIND.
Tickets just went on sale…
The guy is absolutely amazing…
Don't miss him!
SPIDEY: MAKE BELIEVE – MAGIC OF YOUR MIND
Friday, May 27th, 2022 @ 7:30pm
Mizner Park Cultural Center
201 Plaza Real
Boca Raton, Florida 33432
Box Office: (844)-672-2849
Tickets: miznerparkculturalcenter.com
&
Saturday, May 28th, 2022 @ 7:30pm
Delray Beach Playhouse
950 NW 9th St. Delray Beach, FL 33444
Box Office: (561) 272-1281 Ext. 5
Tickets: delraybeachplayhouse.com
from miznerparkculturalcenter.com
"He'll DEFINITELY leave you in AWE!"
– Entertainment Tonight
Spidey has captivated the minds of people around the world with his tours across North America, eight international TV shows and 11+ million online viewers.
Spidey has performed on the stages of the Las Vegas Rio Casino and the iconic NYC Apollo Theatre. He was named US Mentalist of the Year 2017 and has performed for major celebrities like Jennifer Lopez, Steve Harvey, Simon Cowell, Neil Patrick Harris, Penn & Teller and many more.
He joined the cast of CW's Masters of Illusion and his new NETFLIX Original Series: Brainchild is being watched in 21 countries! Spidey's other TV appearances include FOX's Showtime at the Apollo with Steve Harvey, Discovery Channel, Entertainment Tonight and many more.

Best Ghost Magic/Mentalism Trick EVER! You WON'T BELIEVE what he does!
And now, Spidey will perform his much-anticipated mind-reading show that has been a success on NBC's TODAY Show, TMZ and Rachael Ray, live at the Mizner Park Cultural Center! A magical journey that taps into your every emotion, don't miss Spidey present a mind-blowing and hilarious MAKE BELIEVE performance. Whether it's playing a game of mind Pictionary or a heart-racing game of Russian roulette, you will see and experience things you never thought possible. He'll even tap into someone's happiest memories and reveal impossible details!
"SEE it to BELIEVE it!" – The TODAY Show