Comedian- Elon Gold @ Boca Black Box- Tuesday, 5/24/22 (Boca Raton)
Originally posted on May 9th, 2022.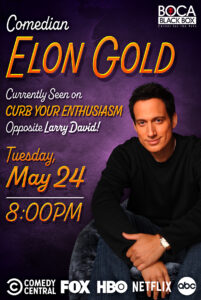 * Comedian- Elon Gold.
Just picked up up 2 tickets…
Trust Jeff Eats when I tell you- the guy is absolutely brilliant!
Tuesday, May 24th, 2022 (8pm)
Boca Black Box
8221 Glades Road Suite #10,
Boca Raton, Florida 33434
Box Office: 561.483.9036
Tickets: bocablackbox.com check goldstar.com for discount tickets
From bocablackbox.com
Elon Gold is a comedian and actor who has starred in FOX's 'Stacked' and NBC's 'In-Laws'. His one hour stand up special on Netflix, "Elon Gold: Chosen & Taken" received wide acclaim from audiences and peers alike. It is currently streaming on Amazing Prime.
He has made ten appearances on 'The Tonight Show' and had a recurring role on the FOX hit show, 'Bones'.
Elon was a writer/performer on ABC's 'The Dana Carvey Show' and has guest starred on 'Frasier', 'The Mentalist', 'Chappelle's Show' among others.
He recently made stellar appearances on "The Late La92022. 2022., te Show With James Corden" and Comedy Central's "This Week At The Comedy Cellar". His routines have gone viral and are shared by millions around the globe.
He is also featured in the movie "The Binge" and in season 3 of HBO's "Crashing".
Elon can currently be seen opposite Larry David in a recurring role on the 11th season of 'Curb Your Enthusiasm