DISH OF THE WEEK (Sunday- 5/22/22- Golden Pavilion – Jupiter)
***** DISH OF THE WEEK (Sunday- 5/22/22- Golden Pavilion).
One of Jeff Eats' favorite menu items…
BONELESS SPARE RIBS
($10.95)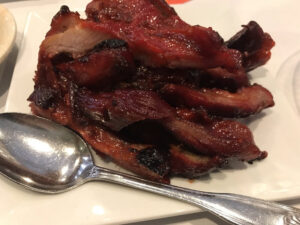 Golden Pavilion
201 North US Highway 1
Jupiter
(561) 747-7470
goldenpavilionfl.com
Latest Review: 4/26/17
Trust Jeff Eats on this one- Golden Pavilion is an absolute must try!
Posted on April 26th, 2017
***** Golden Pavilion, 201 North US Highway 1, Jupiter, Florida 33477, (561) 747-7470.
Got a real good Chinese joint for you guys- Golden Pavilion in Jupiter.
Jeff Eats and Mrs. Jeff Eats recently did an early dinner there- and I gotta tell you, Golden Pavilion's food was right on the money!
In addition to a menu loaded with real good Brooklyn Jewish American Chinese Food circa 1957- Golden Pavilion has a dim sum menu (served every day) for you guys who like to play that game!
Just between us guys, Boca Raton resident Jeff Eats can only think of two eat-in Chinese joints by my house-(5 miles) whose food comes even close to being as good as Chinese Pavilion's is! By the way, 42 miles one way- is way outside of Golden Pavilion's delivery radius!
You can check menu/prices/info at goldenpavilionfl.com.
Golden Pavilion is open 7 days a week 11am-10pm.