Win A $10 Jeremiah's Italian Ice Gift Card
This contest started at 5/9/22. This contest has a winner.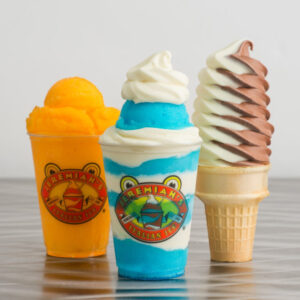 * Win A $10 Jeremiah's Italian Ice Gift Card
Jeff Eats got a $10 Jeremiah's Italian Ice Gift Card to give to one of you guys!
The game- the first 10 "reader-comments" received – will be entered in a "blind hat pick"! You can submit as many comments as you'd like but- Please, only 1- reader comment – per day…play fair!
The $10 Gift Card is good at any Jeremiah's Italian Ice location (check jeremiahsice.com for locations, menu, info).
Posted on November 8th, 2021.
***** Jeremiah's Italian Ice, 8170 Glades Road K-2, Boca Raton, Florida 33434, (561)465-3274.
Got a real good Italian Ice/Soft Serve Ice Cream/Gelati joint for you guys to checkout, Jeremiah's Italian Ice in Boca Raton.
Real simple tale to tell, Jeremiah's is a fast growing Italian Ice franchise (since 2019) which currently has stores spread-out over Florida. Alabama, Georgia, North Carolina, Texas. Three weeks ago, Jeff Eats and Mrs. Jeff "discovered" Jeremiah's Boca Raton joint and have been back 5 times since that initial outing. Order/pickup at inside counter/outside walk-up windows, handful of inside/outside tables, reasonably priced- 40 rotating and seasonal Italian Ice flavors/ vanilla-chocolate soft serve/ loads of toppings menu.
Now, just between you and me, I kinda think that I know my Italian Ices and Soft Serve Ice Cream and I'm telling you guys that Jeremiah's Italian Ice is turning out absolutely delicious stuff!
Like I said a few seconds ago, Jeff Eats and Mrs. Jeff Eats have been to Jeremiah's 6 times (between 7:30-9:30pm) and each and every time- there were lines both inside and outside with people waiting to order. In addition, every table inside/ outside was taken. Of interest, all ages were there.
Not sure as to how it all plays out franchise wise, but for right now, the Jeremiah's (which opened in Boca Raton on June 28th, 2021)) looks like a home-run business!
Checkout jeremiahsice.com for locations/menu/prices/info.
Jeremiah's Italian Ice is open, Sunday-Thursday noon-10pm, Friday-Saturday noon-11pm.