Whitestone/ Friday, May 6th, 2022 (Sunset Grill @ Seminole Casino Coconut Creek- Coconut Creek)
* Whitestone.
Simple tale to tell you guys…
Whitestone is one of Florida's best 50's-60's-70's cover bands!
On Friday, May 6th, 2022 Whitestone will be appearing (free/no cover charge) at the Sunset Grill- Seminole Casino Coconut Creek!
If you're into Frankie Valli & The Four Seasons, The Drifters, Roy Orbison, Dion & The Belmonts, The Tokens, Jay & The Americans, The Temptations, The Four Tops, Jimmy Buffett, Neal Diamond, The Five Satins, The Association, The Monkees, Johnny Maestro & The Brooklyn Bridge, The Righteous Brothers, The Mystics, Lou Christie, The Beach Boys, The Beatles, The Isley Brothers, Frank Sinatra, The Rolling Stones, The Doors, Bruce Springsteen & The E Street Band, Earth Wind & Fire, Elvis Presley, The Zombies, Tommy James & The Shondells, The Duprees, The Spinners…Whitestone-got-you-covered!
For you guys (non-house-burglars) who like to follow Jeff Eats and Mrs. Jeff Eats' "social calendar"- we got -plans on the 6th to down some burgers/ salads/ wings and catch Whitestone in action at the Sunset Grill!
Don't miss these guys!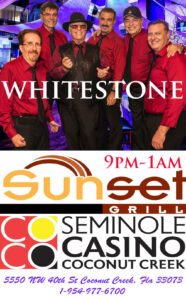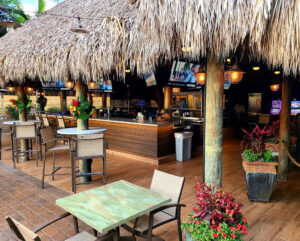 Sunset Grill
Located right outside Smoke-Free Pavilion, you'll find a casual, outdoor smoke-free dining experience under the cover of our traditional Chickee. Indulge in handcrafted drinks, fresh seafood and juicy burgers, all while playing Slots & live Table Games or watching your favorite sports.
Check menu/ prices/ info at seminolecoconutcreekcasino.com.