Cinco de Mayo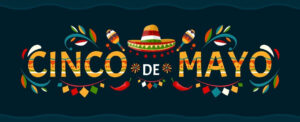 * Cinco de Mayo.
Just in case- you find yourself on Jeopardy!
From history.com
Cinco de Mayo, or the fifth of May, is a holiday that celebrates the date of the Mexican army's May 5, 1862 victory over France at the Battle of Puebla during the Franco-Mexican War. The day, which falls on Thursday, May 5 in 2022, is also known as Battle of Puebla Day. While it is a relatively minor holiday in Mexico, in the United States, Cinco de Mayo has evolved into a commemoration of Mexican culture and heritage, particularly in areas with large Mexican-American populations.
Cinco de Mayo History
Cinco de Mayo is not Mexican Independence Day, a popular misconception. Instead, it commemorates a single battle. In 1861, Benito Juárez—a lawyer and member of the Indigenous Zapotec tribe—was elected president of Mexico. At the time, the country was in financial ruin after years of internal strife, and the new president was forced to default on debt payments to European governments.
In response, France, Britain and Spain sent naval forces to Veracruz, Mexico, demanding repayment. Britain and Spain negotiated with Mexico and withdrew their forces.