The Wall and Beyond- The Pink Floyd Experience (Mizner Park Amphitheater- Boca Raton)
Just checked the box-office and there is a small handful of really good seats still available for tonight's show!
Jeff Eats and Mrs. Jeff Eats have "seen" the show- trust me, it absolutely kills!
Originally posted on February 4th, 2022.
* The Wall and Beyond- The Pink Floyd Experience.
TICKETS JUST WENT ON SALE!
A few weeks ago (1/15/22) The Wall and Beyond played 2-SRO shows at Sport of Kings Theater at Gulfstream Park Racing and Casino in Hallandale Beach!
Trust Jeff Eats on this one- DON'T MISS THIS SHOW!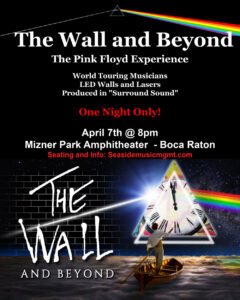 The Floyd Experience in Surround Sound
World Touring Musicians, Lasers, LED Walls
Mizner Park Amphitheater
590 Plaza Real
Boca Raton, FL 33432
TICKETS: $25-$65, seasidemusicmgmt.com and eventbrite.com
Thu, April 7, 2022
8:00 PM – 10:00 PM EDT
About this event
The Wall and Beyond – The Exclusive Pink Floyd Experience – In Surround Sound
"Sonic innovators don't come much bigger than Pink Floyd who not only re-imagined sound, but also changed how we take in live music. When the band performed the world's first-ever surround sound concert at London's Queen Elizabeth Hall on May 12th, 1967, the group would change how we consume live audio forever."
Beyond The Wall is a select group of multi-talented world touring artists, along with a world class production team that have come together recreating the Moment Pink Floyd Delivered the World's First Surround Sound Concert! This unique show will also take you on a journey through time and the endless creatives of Pink Floyd… You will revisit Pink Floyd live like never before with State-of-the-Art Surround Sound, LED Walls, Lasers and World Class Musicians.
The collaboration and chemistry of this show will leave you Breathless!
(1967- Roger Waters would later vividly recall the show: "The sounds traveled around the hall in a sort of circle, giving the audience an eerie effect of being absolutely surrounded by this music.")
The Wall and Beyond – The Exclusive Pink Floyd Experience (1967) In Surround Sound
Venue is fully tented for this event… All seats and grass area are covered!