Lynora's (Boca Raton)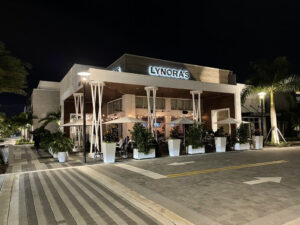 Lynora's, 9560 Glades Road, Suite 180, Boca Raton, Florida 33428, (561) 235-5096.
The other night, Jeff Eats, Mrs. Jeff Eats and another couple ate dinner at a Southern Italian joint named- Lynora's in Boca Raton.
Just so you know, the restaurant opened something like 5 months ago, has indoor booth and table seating/ outdoor patio table seating/ full indoor liquor bar with requisite tvs, and is the latest addition to- the Lynora's Restaurants chain which currently has 2 West Palm Beach/ 1 Jupiter/ 1 Palm Beach Gardens locations. The restaurant's reasonably priced- lunch/ dinner menu is loaded with appetizers/ pizzas/ pastas/ hot & cold subs/ entrees/ daily specials/ desserts.
To sum Lynora's up, imagine "voluntarily" eating at a restaurant run by Moe Howard, Curly Howard, Shemp Howard and Larry Fine which serves food that will bring back fond memories of your public school cafeteria lunches!
Now you know and I know that "this" food reviewing gig is purely a subjective call- you know, what I like, you may hate and vice versa!
All I can tell you, just off the top of my head, I can name at least 10 Southern Italian restaurants in Boca Raton that run circles around Lynora's food and service!
Now, since the above tale is just Jeff Eats' opinion, you can check (if you are so inclined)- Lynora's menu/ prices/ info at lynoras.com.
Lynora's is open:
Monday – Thursday: 11 am – 10 pm
Friday – Saturday: 11 am – 10:30 pm
Sunday: 11 am – 10 pm