Win A $50 Biergarten Gift Card (Boca Raton)
This contest started on 3/10/22. This contest has a winner.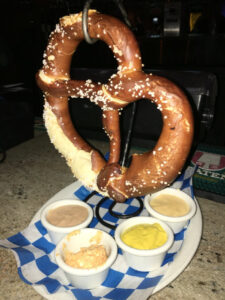 * Win A $50 Biergarten Gift Card.
Jeff Eats got a $50 Biergarten Gift Card to give to one of you guys!
The game- the first 50 "reader-comments" received – will be entered in a "blind hat pick"! You can submit as many comments as you'd like but- Please, only 1- reader comment – per day…play fair!
The Gift Card is good at Biergarten, 309 Via de Palmas, Boca Raton, Florida 33432, (561) 395-7462.
Check menu/prices/info at biergartenboca.com.
Posted on February 27th, 2012.
***** Biergarten, 309 Via de Palmas, Boca Raton, Florida 33432, (561) 395-7462.
Last Saturday night around 10pm my wife and I- and another couple stopped by a German "bar-restaurant"—Biergarten in Boca Raton. The joint has indoor seating/huge outdoor patio seating. Real simple concept–tons of different beers, wines, specialty drinks—menu loaded with appetizers, burgers, salads, sandwiches, tacos, German style wursts-schnitzels-and other dishes—local bands and djs. The joint looks like "what" I guess a German beer garden in Germany is suppose to look like and the staff wears' German beer garden costumes (I think!) You can check menu/prices at www.biergartenboca.com.
What a cool place!. It was JAMMED and I do mean JAMMED! I'm gonna bet here, that half the crowd was FAU/Lynn students. Although it was approaching "my" bedtime, I still "tried" a steak slider, bbq pork slider, pastrami slider, kielbasa, potato pancakes—and I'm telling you straight up, the food was absolutely dynamite. Absolutely some of the best "bar" stuff I've had in a very very long time. A great dj was spinning all-types of music and I understand that the bands that work the joint, play classic rock, reggae and new stuff.
Suffice it to say, the "kids" there were having an absolute blast–and us 4 old geezers did the same. Boy! If Ithaca, New York had a joint like Biergarten back in 1966-1970–just maybe, I wouldn't have been so anxious to graduate from Ithaca College-to get back to Brooklyn. In all fairness, Bobby Comstock & The Counts was a great band, but if memory serves me right, the food at the Dewitt Clinton Hotel where they worked- wasn't even in the same breath as Biergarten's grub.
Biergarten hasn't been around for very long. I'm guessing here, but I think something like 6 months. The joint is located in the "Pink Plaza" in Boca Raton…the spot that it's in- has over the years-housed more restaurants than you can shake a stick at. I maybe going out on a limb here, but I think that the landlord has finally found a long-term tenant.
Let me close by saying, no matter how old or for that matter young you are—you gotta try Biergarten.
Biergarten is open Sunday-Monday 11am-midnight, Tuesday-Saturday 11am-2am.