DISH OF THE WEEK (Sunday- 3/6/22- Casey's Place- Vero Beach)
***** DISH OF THE WEEK (Sunday- 3/6/22- Casey's Place).
One of Jeff Eats' favorite menu items…
CHICKEN SALAD SANDWICH
($7- Chicken Salad, Lettuce, Tomato, Mayonnaise on Toasted Rye)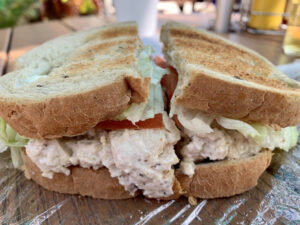 Casey's Place
917 Azalea Lane
Vero Beach
(772) 231-4790
caseysplace.net
Latest Review: 9/2/21
This is an absolutely terrific fast food joint!
By the way, if the Chicken Salad Sandwich doesn't work for you- this…
Bacon Cheeseburger
(6 oz Black Angus Chuck, Tomato, Mayonnaise, American Cheese, Hickory Bacon on a toasted Kaiser Roll) will run you $7.45!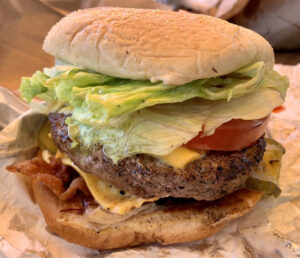 Posted on September 2, 2021
***** Casey's Place, 917 Azalea Lane, Vero Beach, Florida 32963, (772) 231-4790.
Got a terrific fast food joint for you guys to check-out…Casey's Place in Vero Beach.
Simple tale to tell, eclectic menu- breakfast sandwiches / char-broiled burgers/ grilled hot dogs/ salads/ hot & cold deli sandwiches/ grilled & blackened chicken sandwiches/ beer/ wine…, order & pickup at window counters, outdoor table seating, open Monday-Saturday 9am-8pm/ closed Monday.
Jeff Eats and Mrs. Jeff Eats 'discovered" Casey's Place a couple of weeks ago- and the combination of its delicious food, pleasant service, cool beach vibe and outdoor setup- totally hooked us!
You guys can check menu/prices/info at Casey's caseysplace.net.