No ribbing: Last Bobby Rubino's restaurant in Florida to permanently close Feb. 20
* No ribbing: Last Bobby Rubino's restaurant in Florida to permanently close Feb. 20.
No ribbing: Last Bobby Rubino's restaurant in Florida to permanently close Feb. 20
By Phillip Valys, South Florida Sun-Sentinel
South Florida Sun Sentinel
14 hours ago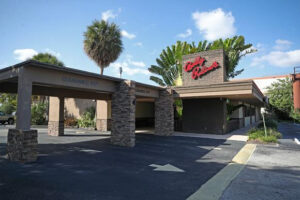 After 43 years in South Florida, Bobby Rubino's, the last surviving location of a once-mighty rib-shack chain, will close its doors later this month. John McCall/South Florida Sun-Sentinel/TNS
It was a relic of South Florida's 1980s heyday when Tony Roma's and barbecued baby back ribs chains ruled the local restaurant roost. Now, the last surviving location of a once-mighty rib chain – Bobby Rubino's – will close its doors on Sunday, Feb. 20.
After 43 years of serving prime rib and colossal onion ring loaves in South Florida, Bobby Rubino's low-slung, one-story restaurant on North Federal Highway in Pompano Beach will be demolished later this year, owner John Castellano told the Sun Sentinel. It will be replaced – perhaps fittingly – by another fast-growing restaurant chain: Baton Rouge, La.-born chicken tender joint Raising Cane's.
Castellano told longtime staff on Feb. 7 about the final day of business, after Raising Cane's mailed him a notice to vacate the 10,000-square-foot building. The news came as no surprise to managers and servers, who've known about the restaurant's demise for months, he says. Castellano signed a contract in March 2021 to sell the Bobby Rubino's building and lease its 2.1 acres of land underneath – worth $1.7 million, per county records – to tenant Clear Channel Outdoor LLC.
Describing the past few days as a "somber, sad emotional situation for us," Castellano admits COVID-19 shutdowns and stiff barbecue competition nearby soured his passion. It also made him think pragmatically about keeping the old-school rib joint alive.
"It's my family legacy," Castellano says. "But are we going to do this 20, 30 years from now? I don't envision my children being in the restaurant business, and maybe this would have been a different story if they wanted to inherit, but they have their own interests. It was a good run."
Reservations have jumped as much as 75 percent in the waning days of Bobby Rubino's as longtime customers clamored for last-minute prime rib and vintage crocks of cheesy French onion soup . But lunch and dinner bookings are far from full, Castellano admits, perhaps yet another sign of the chain's declining influence.
Plans call for a teardown of Bobby Rubino's this spring to make way for a 3,267-square-foot Raising Cane's, which specializes in slinging chicken fingers with coleslaw and Texas toast. That restaurant will include 104 seats – 52 indoor, 52 on an outdoor patio facing Federal Highway – plus three drive-thru lanes, according to city documents.
There's still no timeline for Raising Cane's debut in Pompano Beach, one of five restaurants planned as part of its Florida expansion, says AJ Kumaran, the restaurant chain's COO and co-CEO. (The first, at 351 Lincoln Road in Miami Beach, is set to open in March after months of pandemic delays.)
"After years of waiting, people in Florida are finally going to get their own Cane's," Kumaran says in a recent statement.
Castellano, who grew up working in Bobby Rubino's kitchens, says he'll be sad to see his restaurant die, adding that the extra rent money from Raising Cane's lease will "help pay for my kids' education," he says.
Founder Bobby Rubino had been a charismatic maître d' at Jilly's, a lounge run by Frank Sinatra's friend Jilly Rizzo, when restaurateur Tony Roma recruited him to join his rib chain in Miami Beach in the early '70s. When Rubino spun off his own restaurant, he modeled the format and menu – right down to its onion-ring loaves – after Tony Roma's. He opened the Pompano Beach location of his namesake restaurant in 1979, not long after the July 1978 debut of Bobby Rubino's Place for Ribs at 4100 N. Federal Highway, in Fort Lauderdale.
Bobby Rubino's and Tony Roma's competed for rib-chain supremacy throughout the '80s, with the former, at the height of its powers , opening 25 ribberies from San Francisco to New York.
But as more barbecue restaurants flooded the South Florida market, Bobby Rubino's couldn't compete, closing all but seven of its restaurants by 2000.
No chronicle about the legacy of Bobby Rubino's is complete, of course, without mentioning its notorious connections to the mob. The rib restaurant was a front for New York's Gambino crime family practically from its outset; between 1981 and 1986, for example, a Mafia bagman named Pasquale Nigro testified in court to skimming $2,500 a week from a Bobby Rubino's in West Palm Beach, making payments to reputed Gambino mob captains Ettore Zappi and Natale Richichi – with the full knowledge of Rubino himself.
Rubino sold his chain in 1987 to Zappi's grandsons , Anthony and Frank Galgano , and two other descendants of Mafia royalty : brothers Paul and Joe Castellano. The Castellano name is tied to grisly mob history: Gambino crime boss John Gotti had ordered an unsanctioned hit on the Castellanos' father, Paul Sr., gunning him down outside Sparks Steak House in Manhattan in 1985.
In 2000 police arrested Frank Galgano , who owned two Bobby Rubino's in Fort Lauderdale and one in Hallandale Beach, for failing to turn over $248,000 in sales taxes he collected from customers.
In high school in the 1980s, John Castellano worked shifts at Bobby Rubino's as a server-assistant, finally taking over the restaurant from his father, Paul, by the late 1990s. "Some people who worked for us, who still work for us, have known me since I was basically a kid," Castellano, 50, says, referring to his manager, Barbara Baker, an employee of 30 years.
These days Castellano isn't comfortable talking about Bobby Rubino's past – he says he was never involved – choosing instead to remember the rib joint's loving customers and good deeds. That included Unity in the Community , an annual event for which Bobby Rubino's donated hundreds of pounds of baby back ribs.
"[Bobby Rubino's] always gave back at events like that," says Rex Hardin, Pompano Beach's mayor and a longtime customer. "What a loss. It tugs at your heartstrings when you see a longtime restaurant not survive."