Angelo with Reminisce (Pavilion Grille- Boca Raton)
* Angelo with Reminisce.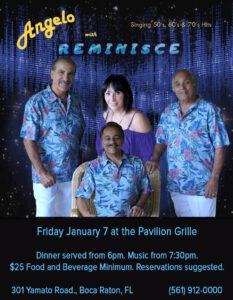 This one is for all you guys out there who like to follow Jeff Eats and Mrs. Jeff Eats' "social" calendar…
Just made dinner reservations for tonight, to see Angelo with Reminisce at the Pavilion Grille, 301 Yamato Road, Boca Raton, 33431, (561) 912-0000.
Trust Jeff Eats on this one- Angelo with Reminisce is one of South Florida's top- doo wop/50's/60's/70's groups!- and the Pavilion Grille is a dynamite looking bar-restaurant (located in the atrium of an office building) with a reasonably priced American Style menu that definitely works!
You guys can check menu/prices/reservations/info at paviliongrille.net.