Tapestry: The Carole King Songbook (Mizner Park Cultural Center- Boca Raton, Delray Beach Playhouse- Delray Beach)
Originally posted on August 8th, 2021.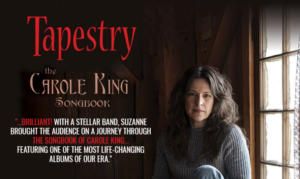 * Tapestry: The Carole King Songbook.
Tickets just went on sale…
Jeff Eats and Mrs. Jeff Eats have seen the show- trust me, you'll swear Carole King is on that stage!
The Skinny:
Tapestry: The Carole King Songbook
Thursday, January 6th, 2022 (8pm) & Friday, January 7th, 2022 (8pm)
Delray Beach Playhouse
950 NW 9th St. Delray Beach, FL 33444
Box Office: (561) 272-1281 Ext. 5
Tickets: delraybeachplayhouse.com
___________________________________
Saturday, January 8th, 2022 (7:30pm) & Sunday, Jamuary 9th, 2022 (2pm)
Mizner Park Cultural Center
201 Plaza Real
Boca Raton, Florida 33432
Box Office: (844) 672-2849
Tickets: miznerparkculturalcenter.com
from miznerparkculturalcenter.com
The premier musical tribute to Carole King, TAPESTRY: THE CAROLE KING SONGBOOK…
"…Brilliant! With a stellar band, Suzanne brought the audience on a journey through the songbook of Carole King…featuring one of the most life-changing albums of our era."
This show recreates the sound and vibe of a 1970's Carole King concert experience following her legendary album, "Tapestry." You will be transported back to the iconic image of her multi-million selling album of 1971.
Impeccable attention to detail is taken in recreating a respectful and accurate musical presentation of piano and vocals, just as they were. Suzanne's performance will take you on a journey back to those great recordings. During the 70's & 80's, Carole played solo, with acoustic musicians, and a full band with horns during this period. This show is performed in any of those formats.
TAPESTRY not only presents the record-breaking, Grammy-winning album of the same name, but is a retrospective of the iconic songwriting team of Goffin and King, and her hits that continued into the 70's. This prolific team wrote chart-topping hits for artists such as Aretha Franklin, Bobby Vee, The Beatles, James Taylor, the Drifters, Donny Osmond…and the list goes on.
You will feel the Earth Move under your feet with this show!