Sarge's New Year's Eve Bash! (Boca Black Box- Boca Raton)
Originally posted on December 3rd, 2021.
* Sarge's New Year's Eve Bash!
Trust Jeff Eats on this one, Sarge is an absolute must see!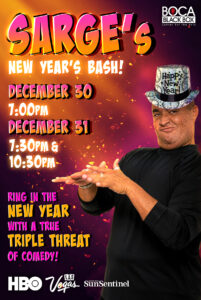 Sarge's New Year's Eve Bash!
Thursday, December 30th, 2021 (7:00 pm)
Friday, December 31st, 2021 (7:30pm & 10:30pm)
Boca Black Box
8221 Glades Road Suite #10,
Boca Raton, Florida 33434
Box Office: 561.483.9036
Tickets: bocablackbox.com also- check goldstar.com for discount tickets
From bocablackbox.com
Bring in the holidays spirit with Sarge, an extraordinary entertainer. A triple threat. A musical piano savant, amazing improvisational comedian and singer.
His first comedy recovery film "Sarge Behind Bars" shot entirely on location of the Casper Wyoming Reentry Prison, has been selected for award consideration at the upcoming "REEL Recovery Film Festival" in New York and Los Angeles slated for October of this year.
SARGE is an entertainer who has performed worldwide to adoring audiences. His sidesplitting comedy, touching vocals and stunning display of dexterity as a pianist have wowed crowds for decades.
After playing clubs and colleges all over America for three years, SARGE found himself opening for some of the biggest names in music – Natalie Cole, Aretha Franklin, Paul Anka, The Beach Boys, The Four Tops, Taylor Dayne, Donna Summer and Wayne Newton, just to name a few. These high profile gigs enabled SARGE's act to evolve from a comedy appearance to an entertainment performance because he learned to weave his own musical talents into his shows.
SARGE has worked on some of the biggest stages in show business. From Radio City Music Hall to Major League Baseball's All-Star Game to entertaining our nation's troops in Iraq, SARGE's ability to improvise and tailor his show to specific audiences is uncanny.
He is one of the highest energy, multi-talented acts in show business today. Not only a hysterical stand-up comedian, SARGE sings in his own voice and in a dozen others including Harry Connick Jr., Sammy Davis Jr., Lionel Richie and Stevie Wonder. Additionally, his dead on impressions of Marv Albert, Mike Tyson, Kermit the Frog and Gilbert Gottfried leave audiences howling and clamoring for more.
On a recent road trip, SARGE performed three different one-hour shows for three nights in a row in front of the same audience at a corporate conference. The crowd was amazed because his material was new for each show.
Triple threats who don't dance are hard to find in show business today. With his mix of comedy, singing and piano playing, SARGE is a legitimate triple threat and