DICK CAPRI'S 9OTH BIRTHDAY ROAST (Mizner Park Cultural Center- Boca Raton)
Originally posted on 4/11/21.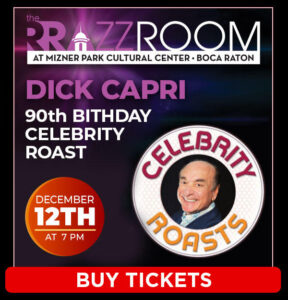 * DICK CAPRI'S 9OTH BIRTHDAY ROAST.
Tickets just went on sale…
An absolutely amazing lineup…
The Skinny:
DICK CAPRI'S 90TH BIRTHDAY ROAST
Sunday, December 12th, 2021 (7pm)
Mizner Park Cultural Center
201 Plaza Real
Boca Raton, Florida 33432
Box Office: (844)-672-2849
Tickets: miznerparkculturalcenter.com
From miznerparkculturalcenter.com
A STAR-STUDDED BIRTHDAY CELEBRATION featuring some of Dick's closest friends!
Dick Capri has taken the comedy world by storm and has left millions laughing in his comedic wake. Capri made his Broadway debut in 1991 at the Lunt Fontanne Theater, co-starring in the critically acclaimed CATSKILLS ON BROADWAY. The show played to sold-out houses for fourteen months, and later successfully toured nationally.
Roster includes:
Seated at the dais…
"Man of the Hour" Dick Capri – Roastee
Jeff Capri – Roaster
Rick Corso – Roaster
Mike Marino – Roaster
Bruce Smirnoff – Roast Master
Freddie Roman – Roaster
Sarge – Roaster
Steve Solomon – Roaster
Stewie Stone – Roaster
Woody Woodbury – Roaster
and
Gilbert Gottfried – Special Guest Appearance
*Artists are subject to change
Don't miss this comedic genius being honored by comedic royalty live at the Mizner Park Cultural Center on December 12th, 2021!