Mini Donut World (Cooper City)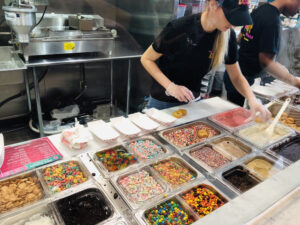 ***** Mini Donut World, 8763 Stirling Road, Cooper City, Florida 33328, (954) 369-2301.
Got a real good mini-donut joint for you guys to checkout, Mini Donut World in Cooper City.
Yesterday, Jeff Eats and Mrs. Jeff Eats "discovered" Mini Donut World and I gotta tell you guys, we had an absolute blast "designing" our vanilla cake donuts! For the record, I'm kinda assuming that you guys know the basic concept- loads of specialty flavored mini vanilla cake donuts and tons of toppings/other ingredients – to create your own flavored mini vanilla cake donuts!
Order/pickup at counter, table and booth seating, open Monday-Saturday 8am-7pm/Sunday 9am-7pm.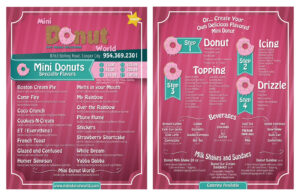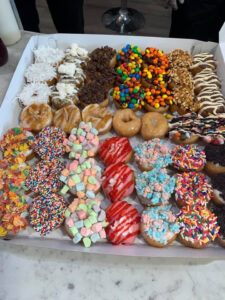 Trust Jeff Eats on this one, if you're into vanilla cake donuts, you will absolutely love Mini World Donut!
By the way, for what it's worth, despite all the "designing" that Jeff Eats and Mrs. Jeff Eats did- the joint's SNICKERS Specialty Flavor (vanilla cake/ chocolate frosting/ peanuts/ caramel drizzle) was hands down our favorite mini donut!
You guys can check menu/prices/info at minidonutworld.com.