A Rocky Mountain High Experience Live! (Mizner Park Cultural Center- Boca Raton)
Originally posted on 11/15/21.
* A Rocky Mountain High Experience Live!
For what it's worth, I've been a John Denver fan for 55 years!
The story- in October, 1966 as a member of Ithaca College's student entertainment committee I got to spend an entire weekend with The Chad Mitchelll Trio who co-headlined a show with comedian-Flip Wilson. At that time, John Denver was a member of the group and over the next 31 years (until his untimely death in October, 1997) he and I stayed in touch with each other.
I consider 'Leaving on a Jet Plane' penned by John) and masterfully covered by Peter, Paul & Mary one of folk rock's greatest songs!
I think John would have loved – Rick Schuler.
Just picked up 2 tickets…
From miznerparkculturalcenter.com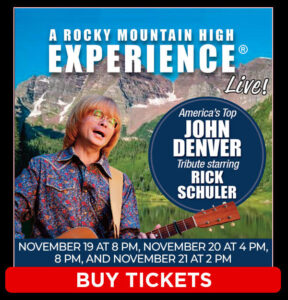 Ever since singer, songwriter, and adventurer Rick Schuler wore his first pair of round glasses at age 13, the murmurs began. It was undeniable, he looked like John Denver, an artist he'd never heard of until that moment.
It was during an era when the music of John Denver permeated the airwaves with sweetness and sunshine, a salve to the wounded and weary soldiers returning home unloved from an unpopular war.
"John Denver was the biggest star in the world, and I didn't have any idea who he was," says Schuler, who quickly discovered that Denver was the guy on the radio whose music he loved. "I was a very shy kid, and John and I kind of became bonded. I taught myself to play guitar and it grew from there."
Nearly four decades later, Schuler has emerged as the leading performer of John Denver's music. His ROCKY MOUNTAIN HIGH EXPERIENCE® is just that, a true, intimate experience.
Schuler performs in front of thousands of Denver fans each year with favorite hits such as "Sunshine on My Shoulders," "Take Me Home Country Roads," "You Fill Up My Senses," and "Thank God I'm a Country Boy."
Watch