Mike Marino Live! With Special Musical Guest Singing Sensation Peter Lemongello Jr. And Comedian/Host Sharon Pfeiffer (Mizner Park Cultural Center- Boca Raton)
Originally posted on October 14th, 2021.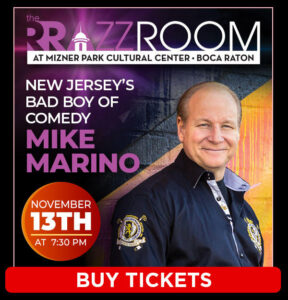 * Mike Marino Live! With Special Musical Guest Singing Sensation Peter Lemongello Jr. And Comedian/Host Sharon Pfeiffer.
Tickets just went on sale.
You guys don't want to miss this show…
Trust Jeff Eats when I tell you that- Marino and Pfeiffer will have you laughing your collective asses off, all night long!- and Lemongello has absolutely amazing pipes!
The Skinny:
Mike Marino Live! With Special Musical Guest Singing Sensation Peter Lemongello Jr. And Comedian/Host Sharon Pfeiffer
Saturday, November 13th, 2021 (7:30pm)
Mizner Park Cultural Center
201 Plaza Real
Boca Raton, Florida 33432
Box Office: (844)-672-2849
Tickets: miznerparkculturalcenter.com
Just a taste…
from miznerparkculturalcenter.com
November 13th, 2021 @ 7:30 pm
Mizner Park Cultural Center
New Jersey's Bad Boy is back! Jersey City native, Mike Marino, returns to RRazz Room at Mizner Cultural Center with a more hysterical stand-up about the Italian-American experience. Inspired by his family's heritage and the absurdities of modern life, Mike's riotous comedy has taken him from The Tonight Show to sitcoms to major comedy clubs, theaters, and casinos from New York to Los Angeles, and around the world. Mike's video "If the President Were Italian" hit 12 million+ views on YouTube. He's also been a highlight of Montreal's famed Just for Laughs Comedy Festival for seven years in a row. In 2008, Marino was inducted into the New Jersey Comedy Hall of Fame, and in 2015 he was awarded the USO Bob Hope Comedy Award for his regular performances for the U.S. military.
Mike's special guest to open the show will be Actor and Comedian, Sharon Pfeiffer!
Mike will also have feature opener, Special Musical Guest singing sensation Peter Lemongello Jr.
About Mike Marino:
Mike Marino – affectionately known to millions of his fans worldwide as New Jersey's Bad Boy – is one of the most loved comedians of our time. He has performed in every major comedy club, theatre, casino and event center from New York to Los Angeles and around the world. Mike has also shared the stage with some of the biggest names in the business.
Mike Marino was born in Jersey City, New Jersey. He entered the entertainment industry at an early age and has studied at some of the most prestigious acting schools in New York, the Herbert Berghof Studio and the American Academy of Dramatic Arts. Mike has appeared in over 200 national television commercials, including many endorsements and has received a Best Actor Clio Award Nomination. He has acted in many Prime Time soaps and television shows including: As the World Turns, One Life to Live, Becker, Nikki, Frasier and Party of Five. His film credits include Crooks, Pizza with Bullets, Hangin' in Hedo and Steven King's Lucky Quarter and Criticized.
Adding to his great success in film, theatre, commercials and soaps, Mike Marino began touring the world performing and selling out at countless clubs, theatres and casinos. His stand-up material ranges from cutting edge observations of everyday life to his Italian family roots; which recently spun into a T.V. pilot called "Re-Constructing Jersey". His comedic style has landed him guest appearances on The Tonight Show as a regular sketch player, The Martin Short Show, Canada's Comedy TV, The Boomer Show, Wild Pitch, and Hand Held Comedy Radio. A clip of Mike's appearance on Byran Allen's Comics Unleashed earned him over 7 million views (and counting), which has led to his current web series "Marino 2016" – an original comedy based on Mike's road to the White House and wise guy attempt to become the first Italian American President of the United States.
About Sharon Pfeiffer:
Sharon Pfeiffer was born and raised in New York, but has been living in South Florida since 1998. Although she started later than most, within the last 12 years she's become an accomplished actress, radio show host/podcaster, and a professional standup comedian. She recently co-wrote and produced her first TV show- a dramedy called 'From Brooklyn to Boca.' She's been VERY busy! Sharon's journey to Florida wasn't the stereotypical story of most single, young women 'moving south' from New York. She didn't come to South Florida with dreams of suntans and South Beach. She was running away from her all-too-real 'mob wife' life. She ended up with a 'Lifetime Restraining Order' and her own bio-episode on ID Channel's 'I Married a Mobster'- Season 2, Episode 3, The Rule Breaker. Google it! It's all true…
The metamorphosis that occurred when Sharon decided to take control of her life AND destiny- going from 'mob wife' to successful business owner and entertainer- is nothing short of miraculous. One wrong turn, and she could've ended up on the ID Channel in a totally different kind of show! From 'Sitdowns' to Standup Comedy and feature films, including 'The Beach Bum' opposite Matthew McConaughey (in a very playful SEX SCENE- talk about 'reinventing yourself'!!!), Sharon Pfeiffer has done AND seen more than most would care to admit. Sharon is a proud member of SAG-AFTRA. You can hear her podcast 'The Stripper and The Pol' weekly and see her performing Standup Comedy all over South Florida and NY/NJ.