At White Castle, a Century of Cravings and Counting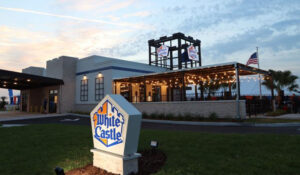 * At White Castle, a Century of Cravings and Counting.
I thought that some of you guys would enjoy reading this article…
11/4/21
qsrmagazine.com
At White Castle, a Century of Cravings and Counting
The slider legend turned 100 this past year with its most exciting opening yet—further proof its fervent fan base still can't get enough.
SPECIAL REPORT | NOVEMBER 2021 | DANNY KLEIN
CEO Lisa Ingram has married innovation and tradition at one of America's most iconic fast-food brands.
There are 10,000 employees at White Castle, and one in four have been with the burger chain for 10 or more years. Of 450 leadership and above positions (GMs, district supervisors, and regional directors), 442 started behind the counter and worked their way up.
These sound like unicorn figures, especially in the triple-digit turnover, churn-and-burn world of fast food. But you don't get to 100 years without busting a few traditions along the way.
White Castle is no stranger to doing so, from its guest pilgrimages to taking reservations on Valentine's Day, and even the slide in its home office where workers scoot down to the first floor.
Yet while this quirky vibe is gospel to employees and loyal guests, or "Cravers," it's not always easy to materialize or demonstrate a century's worth of affinity.
That is, until May 3 arrived.
"Gratifying," is a word White Castle vice president Jamie Richardson keeps coming back to. The brand opened its largest location—4,567 square feet—in Orlando, breaking back into the state for the first time since 1968. Richardson, still a White Castle "rookie" at 23 years tenure, walked the drive-thru line with COO Jeff Carper at 10:30 at night. It stretched well over 2 miles.
"People were honking. I'd ask, how long have you been in line? Oh, about four, four and a half hours," Richardson says. And those people still had another two to go. Did they care? Hardly. Some cried when they got their orders, Richardson says. Others hoisted Crave Cases above their heads like an Olympic goal medal. "And the crowd would cheer," Richardson says.
"It was so gratifying," he adds, "because it was real. There was something about that from the vantage point of our 100th birthday year, opening in Orlando, and the response was beyond our wildest dreams."
The grand opening broke White Castle's previous sales record by 17 percent. Seven members of the chain's founding family, including CEO Lisa Ingram, worked all day, slinging sliders on the grill. White Castle set a limit of 60 sliders per order after learning the hard way during a Scottsdale, Arizona, debut the previous October. Among the first five people who got in line that day, one ordered 700 burgers and another 500. That store would go on to sell more than 4.2 million sliders in 12 months.
But the broader implications of White Castle's Orlando experience is what's stuck with Richardson. "It really made you feel, here you are, a fast-food hamburger chain that sells 2-inch square sliders, and look what it meant to people," he says. "It was pretty cool."
White Castle's Orlando opening was one for the ages.
Equity you can't buy
White Castle turned 100 on March 10, a full century from the day Billy Ingram and Walter Anderson chose to sell square hamburgers for 5 cents each. According to White Castle, this is the moment the fast-food burger chain industry was born. Roy W. Allen opened his first root beer stand in Lodi, California, in 1919 and then introduced A&W, along with Frank Wright, as a drive-in concept four years later in Sacramento, California. Trying to split hairs on the history between A&W and White Castle is a friendly debate, Lisa says.
Yet nobody can deny White Castle's burger breakthrough—the Original Slider was dubbed the most influential burger ever by Time Magazine.
The first White Castle sprung up in Wichita, Kansas, in 1921 and began selling sliders by the sack. Billy Ingram moved the brand to Columbus, Ohio, in 1934 after buying out Anderson's share. White Castle modified the Slider, adding five holes to speed cooking and add flavor, in 1947. Fourteen years after that, it became the first quick-serve to dish out a billion hamburgers. Cheese Sliders didn't join the menu until 1962—the first new add in more than 40 years.
White Castle has grown to north of 360 stores since, but what's so different, compared to the hordes of fast-food giants that joined the picture over those 100 years, is how little White Castle has drifted.
It's a twofold byproduct of something you can't buy or hire the best marketing firms in the world to recreate: One, Lisa runs the ship as a fourth-generation CEO who rightfully wears "Slider Queen," T-shirts. She took the reins in 2015 following the retirement of her father, Bill Ingram, Billy Ingram's grandson, who stepped aside after 43 years. Lisa, president at the time, was the fourth White Castle CEO in 94 years and the first not named Edgar Waldo Ingram.
The other point is the folkloric longevity and loyalty of those who work at White Castle, as noted earlier.
When the brand weighs decisions on its future, the conversations sit differently. There's no timeline or Wall Street investor to appease. And those employees with 10, 20, 30, 40 years of experience have serious, personal stakes in White Castle's success.
"You're more worried if it works in the real world or not," Richardson says.
This is where a balance is being struck today as White Castle prepares for "year 1 of the rest of our lives," as Richardson calls it. The ability to celebrate and honor the reverence that's brought White Castle to this place and time, but also understand what it takes to remain relevant fighting for share in one of the country's fastest-moving industries—especially in the fallout of COVID-19 and the innovation it spurred.
WHITE CASTLE
"We have a lot of team members who come to White Castle and think I'm only going to work here for three months until I find something better," Lisa says. "But they end up staying for 10, 20, even 30 or 40 years."
"One of the things that we really want to continue to be known for is one, being a great place to work," Lisa says. "Two, being one of the coolest brands for future generations. And that really involves continuing to be relevant and continuing to rethink how we're offering our product to customers."
There was a time, Richardson admits, when White Castle's history led to a bit of stubbornness. "Someone would say, oh, we did that, it didn't work," he says. "And you'd go, when was that? That was in 1992."
Lisa has fostered a spirit of innovation at White Castle in recent years, however, and it's catapulted the brand forward, Richardson says. It's allowed White Castle to take more risks, and grow even when innovations fall flat.
It's an experience Lisa is familiar with. She once pitched her father on a five-item limited-edition menu back in the mid 2000s. The effort didn't cut it. But White Castle took some menuboard learnings forward.
"I think that Bill really gave Lisa the chance to grow and learn and take on more, but then he gave her great encouragement to try things that maybe he wouldn't have done or thought of," Richardson says.
The brand even once created three separate concepts, completely different brands, and tried to bring them to market. "Candidly, they all failed pretty miserably," Richardson says. Yet the product development, dining room décor, and internal processes gave White Castle "10 years of good ideas from the one thing that didn't work," he says.
And then there's the risks that did land. Like Valentine's Day reservations—a tradition that began in 1991. Or saying yes to "Harold & Kumar" in 2004. Even the decision to deploy "Flippy" an automated kitchen robot from Miso Robotics, to help prepare burgers in pilot stores (a 2.0, smaller version is coming).
White Castle introduced its Craver Nation loyalty program last year and built out an employee app to let workers access schedules, communicate, and adjust on the fly. The company's four-story, 105,000-square-foot home office was rebuilt in 2019, unveiled that January, and includes everything from an over-sized wooden throne to a gift shop. And yes, a spiral slide that drops people from the second floor into the lobby.
White Castle has been on the same property since 1934, when it bought the building and 18 acres for $50,000. There are now five apartment buildings and a second office structure on-site, the rent and revenue of which White Castle uses to help pay for health insurance and retirement benefits for workers.
"We have a lot of team members who come to White Castle and think I'm only going to work here for three months until I find something better," Lisa says. "But they end up staying for 10, 20, even 30 or 40 years."
This past year, White Castle earned a "Great Place to Work Certification" based on a "Trust Index" survey conducted among the company's employees. Eighty-one percent called White Castle a "great place to work"—22 percentage points higher than the average for U.S.-based companies.
In 1924, White Castle became one of the first businesses to offer health insurance to employees. Team members have always received free meals for working shifts. Every year, the chain honors employees with 15 years on the clock with its "Elaine Miseta Day," named after an administrative assistant who spent 67 years with the company. White Castle hands out pins that say, "52 years to go!"
Part of the secret sauce is intangible—fostering a family-like vibe top-down throughout the ladder, manager to frontline worker, and every rung in between. The other deals with more visible innovations like the Flippy experiment, investing in new fryers, and replacing grills 20 years ago to make hourly employees' jobs easier.
"We're going to continue looking at ways that we can reinvent ourselves even though we're 100 years old," Lisa says.
John Kelley, White Castle's chief people officer and a fourth-generation family member, regularly conducts engagement and loyalty surveys to take the pulse from the trenches. White Castle has done so since 1998, but ramped up communications in 2020 to address COVID concerns.
Another banner Lisa carries of late is White Castle's evolution as a workforce. About 75 percent of the chain's GMs and above are female. And 54 percent are diverse. "I see that as a core value of who we are," she says.
WHITE CASTLE
This past year, White Castle earned a "Great Place to Work Certification" based on a "Trust Index" survey conducted among the company's employees.
It's not lost on her, either, how few female CEO peers she has in quick service. As a family business founded 100 years ago, there are a lot of leadership photos on White Castle's walls, comprised mainly of white males.
"But during my father's leadership and certainly during my leadership, we've had the recognition that diversity makes you a better company. It's certainly something that we're focus on. For me personally, I hope that's part of my legacy. Because as a woman coming into an organization and not seeing many women CEOs, is something that can be inspiring to people, especially when we have a workforce that's mostly female. To have the ability for every person in my organization to see somebody who looks like them or who is like them in certain ways, is important to me personally."
Richardson adds White Castle's values-based approach isn't about putting "another poster in the conference room." It centers on accountability. White Castle calls its direction today "moment motivated," which manifests just as it sounds. "We know that what we have, equity wide, is about that emotional connection people have and not dialing that down," he says. "If anything, it's amping that up and letting that take us to another place, a higher place."
There's also White Castle's "continuous crave" pillar, or a loop where the company constantly refines best practices. "From our vantage point, it's the idea that if we're authentic and true to the values and expressions that have brought us here, it's going to lead us to the new ideas and new expressions that are relevant for the next generation of Cravers," Richardson says. In one example, White Castle plans to reimage some units this year—something it paused in 2020—and lean deeper into technology to support omnichannel expansion, from drive-thru to delivery and digital ordering.
"We're really proud that we're able to meet customers wherever they need to be, whether that's in their home or whether that's at a restaurant," Lisa says. "Or whether that's at a drive thru. Or through delivery. However they want to get our product, we continue to look at ways that we can offer more reach to our great tasting sliders."
Blowing out the candles
White Castle began planning for its 100th birthday about three years ago. The celebration was going to encompass employees, suppliers, and communities.
The brand set aside $100,000 in college scholarship for workers and dependents. It conducted a "Time Machine Sweepstake" where White Castle focused on different decades and milestones in its history, doled out cash prizes, named booths after guests, and delivered personalized voicemail greetings from Lisa herself. Not to mention a grand prize of $100,000.
Additionally, White Castle tapped New York City design house TELFAR to create a fresh set of employee uniforms, including a T-shirt, polo shirt, apron, visor, and durag, with a "100 years and counting," label.
White Castle teamed with Coca-Cola—a brand partner from the outset—on augmented reality soft drinks designed by Columbus artist Bryan Moss. These, too, showcased different time periods in White Castle's 100-year run.
The brand hosted a virtual birthday party on National Slider Day (May 15), which it recorded in front of a small audience at the home office and streamed live on White Castle's social media platforms. There were celebrity well-wishes, including Kal Penn, who played "Kumar" from the cult-classic movie, Jimmy Kimmel, Alice Cooper, Styx guitarist Tommy Shaw, actor/comedian Spice Adams, and TV host Adam Richman; a mixology lesson, the introduction of 12 members into the Cravers Hall of Fame; and a musical performance from Jim Babjak, co-founder and lead guitarist for The Smithereens, who wrote "White Castle Blues," an ode to the chain with friend Bob Banta, in 1977.
White Castle then struck a partnership with PUMA on a merchandise collection that launched late June, complete with blue-and-white suede sneakers.
On the community side, White Castle held a roundup program where it helped give back to 48 local charities systemwide. At the home office, some employees opted in to contribute 100 hours of service in honor of the occasion. White Castle donated more than $1 million in food to healthcare workers during the pandemic.
Also notable, White Castle broke ground this spring on the expansion of its frozen-food manufacturing plant in Vandalia, Ohio. The expanded facility will be twice the size of the existing 75,000-square-foot building, and renamed in honor of Bill Ingram, who created the retail division in 1987.
There's no understating the potential of this arm of White Castle's business. Part of why the brand headed to Orlando was the fact it was selling a whole lot of frozen sliders in grocery stores.
"It's so humbling and it's so magical to have a brand that people love and pass on for generations," Lisa says. "We have so many customers that will tell us stories about visiting White Castle with their parents or their grandparents. And they carry those memories and those experiences and they repeat them for their children and their grandchildren. Or they introduce their friends to it. It's a brand that's loved by many and shared by all."