An Evening With Judy Gold (Mizner Park Cultural Center- Boca Raton)
Originally posted on July 16th, 2021.
* An Evening With Judy Gold.
The lady is off-the-chart funny!
Don't miss her!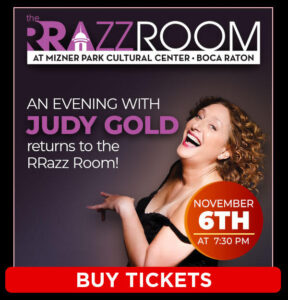 An Evening With Judy Gold
Saturday, November 6, 2021 @ 7:30pm
Mizner Park Cultural Center
201 Plaza Real
Boca Raton, Florida 33432
Box Office: (844)-672-2849
Tickets: miznerparkculturalcenter.com
$40 Regular / $47.50 Premium / $55 VIP
From miznerparkculturalcenter.com
2-time Emmy Award Winner and "Yes I Can Say That" Author Judy Gold makes her RRazz Room Presents at Mizner Park Cultural Center return with an evening of side-splitting comedy.
Judy has had stand-up specials on HBO, Comedy Central and LOGO. She is a regular on Comedy Central's new series This Week At The Comedy Cellar. She has also appeared on The Late Show with Stephen Colbert. Judy has been seen on the reboot of Murphy Brown, has recurring roles on Netflix's Friends From College and the Showtime series I'm Dying Up Here. Other most recent TV appearances include guest-starring roles on Broad City, Louie, The Unbreakable Kimmy Schmidt, The Jim Gaffigan Show, Inside Amy Schumer, Difficult People, 30 Rock, and 2 Broke Girls. Judy also won two Emmy awards for writing and producing The Rosie O'Donnell Show. Judy has made numerous appearances on The Wendy Williams Show, The View, The Today Show, and The Steve Harvey Show. She has written for The New York Times, Huffington Post, CNN.com. She is also a talking head on MSNBC as well as CNN.