THE NY ROCKABILLY ROCKETS (Delray Beach Playhouse- Delray Beach, Mizner Park Cultural Center- Boca Raton)
Originally posted on October 19th, 2021.
* THE NY ROCKABILLY ROCKETS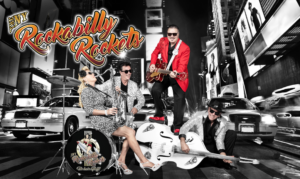 Jeff Eats and Mrs. Jeff Eats have seen the show…
I'm telling you guys- absolutely terrific!
The Skinny:
THE NY ROCKABILLY ROCKETS
Friday, October 22nd, 2021 (3pm & 8pm)
Delray Beach Playhouse
950 NW 9th St. Delray Beach, FL 33444
Box Office: (561) 272-1281 Ext. 5
Tickets Online: delraybeachplayhouse.com ($40 Premium / $45 VIP)
&
Saturday, October 23rd, 2021 (7:30pm)
Mizner Park Cultural Center
201 Plaza Real
Boca Raton, Florida 33432
Box Office: (844)-672-2849
Tickets Online: miznerparkculturalcenter.com ($40 Premium / $45 VIP)
Just a taste…
from miznerparkculturalcenter.com
Quite possibly the best 120 minutes of the '50s, '60s, and more that you will experience on one stage.
You'll love the NY Rockabilly Rockets and their spectacular production "Shake Rattle Roll", a nostalgic Journey through Vintage Rock & Roll. This Dynamic full-production, Vegas-style show brings the 50's & 60's back to life with spectacular Lights, Sound, Stage Props, and the fantastic "NY Rockabilly Rockets" recreating the music you grew up with & loved.
The Rockets High-Octane music of the '50s & '60s will have you clapping & Dancing in the aisle all night long and the ballads will have you holding your loved one. If you love Roy Orbison, Jerry Lee Lewis, Carl Perkins, Elvis, Johnny Cash, Bill Haley & his Comets, Eddie Arnold, the Stray Cats, Dion, Del Shannon, Bobby Vee, Chuck Berry and many other greats, you don't wanna miss this show!