Shake Baby Shake (Arts Garage- Delray Beach)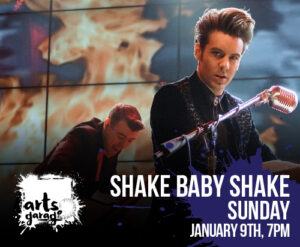 * Shake Baby Shake.
Got something absolutely dynamite for you 50's-60's Rock N Roll guys…
Tickets just went on sale for Shake Baby Shake starring- Lance Lipinsky & the Lovers.
Trust Jeff Eats on this one, you- don't want to miss this show!
The Skinny:
Shake Baby Shake starring- Lance Lipinsky & the Lovers
Sunday, January 9, 2022 @ 7:00 pm – 9:30 pm $40 – $45
ARTS GARAGE
94 NE 2nd Ave.
Delray Beach, FL 33444
Box Office: 561-450-6357
Tickets Online: artsgarage.org
from artsgarage.org
Performing the hits of the major artists of the 1950's and 60's, Lance & his band the Lovers tell the story behind the music as the audience is encouraged to dance and request songs in a casual family friendly atmosphere. Preserving the original authentic sound of the music combined with high energy showmanship, Lance explores the melting pot of styles that created pop music's most innovative decade. Half concert, and half history lesson, fans of the Atomic era of music will hear the eclectic genres that contributed to the birth of Rock & Roll in chronological order from the late 1940's to mid-1960's such as: Big Band, Rhythm & Blues, Western Swing, Rockabilly, Doo Wop, the Teen Idol influence, Soul, Surf, the British Invasion, Motown & more. Shake Baby Shake also features the charming Lovettes honoring the girl groups and major female artist of the 1950's & 60's such as the Andrew Sisters, the McGuire Sisters, Lavern Baker, Connie Francis, The Ronettes, The Supremes, Etta James & more…
The Lovers:
Nate Adams – Lead guitar
John Perrin – Drums
Zach Lentino – Bass
Aaron Getsug- baritone sax
Derrell Lowe – percussion
The Lovettes:
Darcy Jo Wood – backup vocals
Jessy James Lyons – backup vocals
Tameka Estes – backup vocals
Influenced by the mid-century birth of Rock & Roll era of the 1950's and 60's, Wimberley, Texas born Lipinsky preserves the timeless tradition of the Rockabilly subculture in both his songwriting and his live power house, piano stage show antics.
Accompanied by his authentic Chicago based group The Lovers, Lipinsky's driving Jerry Lee Lewis piano rhythms and Presley inspired swagger in his own persona has lead him to appear on both the David Letterman Show and at the Ryman Auditorium in Nashville, TN. Recently he was featured in the new HBO series "Vinyl" directed by Mick Jagger and Martin Scorsese.
After headlining over 2500 action packed shows at the Apollo Theatre in the TONY award winning Broadway musical "Million Dollar Quartet," Lipinsky's debut album "Roll" was recorded in Memphis' historic Sun Studios using all original, vintage analog equipment.
"What's good doesn't die," is a birthright motto Lipinsky displayed since childhood. With no formal training, his dad's lifelong vinyl record collection contributed to a self-taught education on piano and guitar and he was instantly possessed by music before his time.
As a new sound emerged in the mid 1950's, flocks of guitar marketed themed singers dominated the scene. In this new arena called Rock & Roll, only a hand few of front men in mainstream pop music history stood behind a piano.
Not much has changed almost 60 years later as Lipinsky himself is part of this rare breed as a new age early Rock & Roll piano-based entertainer and songwriter.
These influences can be heard in his debut album Roll, filled with the romance, and fine line between danger and innocence that defined early Rock.
Lipinsky's songwriting and live showmanship can be described as a continuation – a much awaited novel sequel to a style born in the Atomic age of the 50's. Some would label it and dismiss it as "oldies" or "nostalgia," but artists like Lance devoted to the Roots music movement remind us that this style is not just a mere trend from the past, but rather its own genre that is still alive and well and standing the test of time.