One Night In Memphis (Coral Springs Center For The Arts- Coral Springs)
* One Night In Memphis.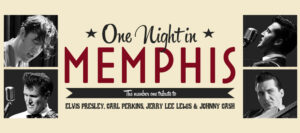 Tickets just went on sale…
Jeff Eats and Mrs. Jeff Eats saw the show a couple of years ago and it absolutely killed!
The Skinny…
One Night In Memphis
Saturday, April 9th, 2022 at 8:00 pm
Coral Springs Center For The Arts
2855 Coral Springs Drive
Coral Springs, Florida 33065
Box Office: (954) 344-5990
Tickets: thecentercs.com
from thecentercs.com
"One Night in Memphis" is a rocking concert tribute to legendary Sun Records recording artists Carl Perkins, Johnny Cash, Jerry Lee Lewis and Elvis Presley. Over 90 minutes of rockabilly, country, gospel and pure 1950's rock and roll music performed live and backed by an authentic and energetic rockabilly backup band. Created and directed by John Mueller from the highly acclaimed show, "Winter Dance Party" this show has met with the same accolades, sell out shows and audience standing ovations. Be a witness to a rock and roll royalty jam session with the music and talent that has stood the test of time. True American music featuring the hits, "Blue Suede Shoes," "Folsom Prison Blues," "Great Balls of Fire," "Whole lotta Shaking Going On," "Shake, Rattle and Roll," "Don't Be Cruel," "Hound Dog," and many, many more with acclaimed national talent, all performed live without tracks and guaranteed to get any audience rocking and rolling! Cast includes former members of the touring company and Broadway cast of Million Dollar Quartet.
On December 4th, 1956 music history was made. This date found Carl Perkins, Johnny Cash, Jerry Lee Lewis and Elvis Presley together at Sun Record's studio in Memphis, TN. A jam session ensued which seems to have happened by pure chance. Perkins, who by this time had already met success with "Blue Suede Shoes", had come into the studio that day, accompanied by his brothers Clayton and Jay and by drummer W.S. Holland, to cut some new material, including a revamped version of an old blues song, "Matchbox". Sam Phillips, the owner of Sun Records, who wished to try to fatten this sparse rockabilly instrumentation, had brought in his latest acquisition, singer and piano man extraordinaire Jerry Lee Lewis, still unknown outside Memphis, to play piano on the Perkins session.
Sometime in the early afternoon, Elvis Presley, a former Sun artist himself but now at RCA, dropped in to pay a casual visit. He was, at the time, the biggest name in show business, having hit the top of the singles charts five times, and topping the album charts twice in the preceding 12-month period. Less than four months earlier, he had appeared on The Ed Sullivan Show, pulling an unheard of 83% of the television audience, which was estimated at 55 million, the largest in history up to that time.
After chatting with Philips in the control room, Presley listened to the playback of Perkins' session, which he pronounced to be good. Then he went out into the studio and sometime later the jam session began. At some point during the session, Sun artist Johnny Cash, who had recently enjoyed a few hits on the country charts, popped in. Cowboy Jack Clement was engineering that day and remembers saying to himself "I think I'd be remiss not to record this" and so he did, and the night became rock and roll music history. Many famous artists such as Bob Dylan recall listening to these recordings and being tremendously inspired by.