DISH OF THE WEEK (9/26/21- Poppa's BBQ- Clearwater)
***** DISH OF THE WEEK (9/26/21- Poppa's BBQ).
One of Jeff Eats' favorite menu items…
HALF RACK PLATE with choice of 2 sides
($15.99)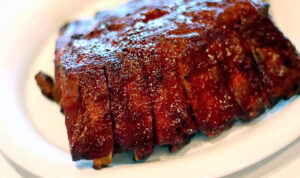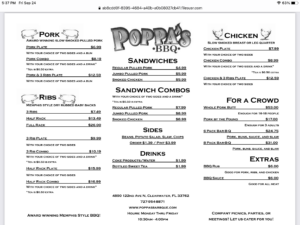 Poppa's BBQ
4890 122nd Avenue North
Clearwater
(727) 954-8871
poppasbarbque.com
Latest Review: 5/28/15
This joint is an absolute must try!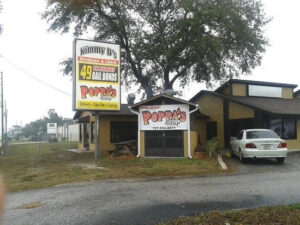 Posted on May 28th, 2015
***** Poppa's BBQ, 4890 122nd Avenue North, Clearwater, Florida 33762, (727) 954-8871.
Got something off the chart good- for you guys…Poppa's BBQ in Clearwater.
Real simple concept going on here…order at/pickup at the counter-smoked bbq joint- something like a dozen 4-top tables inside, handful of benches outside.
If you're looking for "frills"…wrong joint!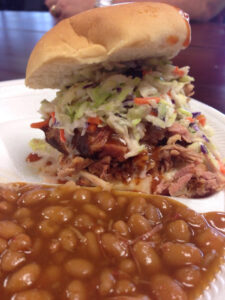 A recent lunch outing had Jeff Eats "trying"- 1/2 rack of Memphis style dry rubbed baby back ribs ($10.49), pulled pork sandwich (comes with 2-sides and a drink- $5.99), chicken plate (smoked chicken breast, 2 sides, bun-$6.29) and I gotta tell you, everything blew me away. The food was absolute dynamite.
Just so we are straight with each other, Poppa's menu is kinda "limited" but I'm thinking that there is enough stuff on it- so nobody in your party is gonna starve or nothing!
Let me wrap this up for you, Poppa's BBQ is an absolute homerun…
You can check Poppa's out at poppasbarbque.com.
Poppa's BBQ is open Monday-Friday 10:30am-until sold out (only open lunch hours) closed Saturday-Sunday.