ABBAFAB (Mizner Park Cultural Center- Boca Raton)
Originally posted on May 14th, 2021.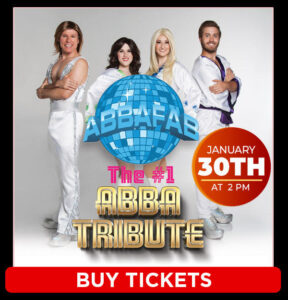 * ABBAFAB.
Definitely one of America's best ABBA tribute acts.
______________________________
TICKETS On Sale June 18th, 2021
______________________________
The Skinny:
ABBAFAB
Sunday, January 30th, 2022 (2pm)
Mizner Park Cultural Center
201 Plaza Real
Boca Raton, Florida 33432
Box Office: (844)-672-2849
Tickets: miznerparkculturalcenter.com
From miznerparkculturalcenter.com
January 30, 2022 @ 2:00 pm
Mizner Park Cultural Center
Having played to sold-out crowds across the U.S. and abroad, ABBAFAB is a stunning tribute to the music of ABBA featuring the sensational talents of some of TAD's most talented and loved artists and musicians! This multimedia production is a tribute to some of the greatest music produced in the 70s and 80s including monster hits such as Waterloo, Fernando, Honey Honey, Dancing Queen and countless others. From ABBA's earliest hits to Mamma Mia, ABBAFAB will take you on a technicolor journey that is unmatched. Our vocalists and musicians have toured the world as solo artists and band members and have come together to create the most entertaining ABBA tribute on the market today!
ABBA's record-breaking string of hits has stood the test of time and continues to thrill audiences of all ages. With vocals and musicianship, they are second to none, the ABBAFAB vibe is infectious! ABBA fans love it and new ABBA fans are created at every show. There's no generation gap here, so let's ALL party like it's 1979!