DISH OF THE WEEK (Sunday 9/12/21- DePietro's Pizzeria & Restaurant- West Palm Beach)
***** DISH OF THE WEEK (Sunday 9/12/21- DePietro's Pizzeria & Restaurant).
One of Jeff Eats' favorite menu items…
HOUSE CALZONE
($13.95- mozzarella and ricotta cheese, pepperoni, sausage, ham and meatballs)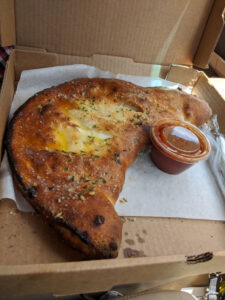 DePietro's Pizzeria & Restaurant
2550 Okeechobee Boulevard
West Palm Beach
(561) 697-4992
depietrospizzeria.com
Latest Review: 4/19/18
Trust Jeff Eats on this one- the "thing" is absolutely humongous and off the chart delicious!
Posted on April 19th, 2018
***** DePietro's Pizzeria & Restaurant, 2550 Okeechobee Boulevard, West Palm Beach, Florida 33409, (561) 697-4992.
You guys and Jeff Eats both know that here in Florida there are more "mom & pop" red sauce Italian joints than there are Chins in a Chinese phonebook (I know, Soupy Sales 1957!)- with that in mind, the goal here (that being jeffeats.com) is to find-according to Jeff Eats' tastebuds the best ones!
Unless you're two years or younger, or you're a recently arrived visitor from Planet Venus- you know that the DePietro's has booth/table seating, a reasonably priced menu loaded with- appetizers/ salads/ calzones/ strombolis/ subs/ pastas/ pizzas/ entrees most of which come with soup or salad, pasta side, garlic rolls!
Last night, Jeff Eats, Mrs. Jeff Eats and Daughter Jeff Eats gave DePietro's a shot and I gotta tell you- the joint scored real-good! All 3-Eats enjoyed the food and the service was as pleasant as could be!
Let me wrap DePietro's up by telling you guys that you can check menu/prices/info at depietrospizzeriaandrestaurant.net, that it's open Monday-Saturday 11am-9pm/ closed Sunday and that if the joint was a drop closer to Jeff Eats' Boca Raton abode- Jeff Eats and Mrs. Jeff Eats would be real steady customers!