Pavilion Grille hosting- Celebration of Life for Joey Dale (Pavilion Grille- Boca Raton)
Originally posted on August 11th, 2021.
* Pavilion Grille hosting- Celebration of Life for Joey Dale.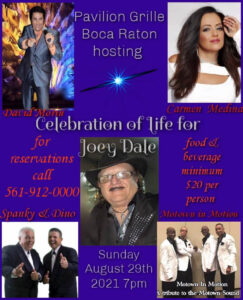 On March 25th, 2020 my good friend Joey Daleo passed-away. Covid-19 prevented a proper funeral and a celebration of his life!
For you guys who didn't have the pleasure of knowing Joey Daleo "aka" Joey Dale- The Joey Dale Story (published, April, 2016) is a good starting point to learn about the man who for the past 25 years was one of Florida's premier doo wop/50s/60s/Motown/disco music-concert promoters/ performers- lead singer of Joey Dale & The Gigolos/ talent managers…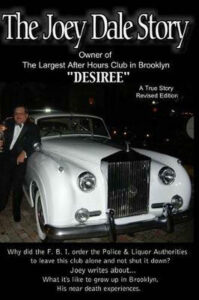 On Sunday Night, August 29th, 2021 at 7pm Joey's family, friends and fans are having a celebration…
The event is open to the General Public…
Pavilion Grille
301 Yamato Road
Boca Raton, Florida 33431
Reservations/menu/info: (561) 912-0000
paviliongrille.com
Food & Beverage Minimum: $20 (reserved bar or reserved table seating/dinner at 5pm-American Style menu)
Jeff Eats, Mrs. Jeff Eats and a group of friends have a table reserved…
Trust me, there are going to be loads of photographs, videos and a speech or three- about Joey's long music career and wonderful family life!
Now, with this Covid-19 situation…
There is really no way to know who will "attend"- but I will tell you, past General Public Invited- Joey Dale Birthday and other parties were- always packed with famous recording artists, well known Florida music acts and legendary songwriters- and yes, Joey was always able to "coax" a song or two out of them to please the crowd!
Guaranteed- this Celebration of Life for Joey Dale is going to be a very special evening!
Now,
Please, sit back and enjoy my good friend Joey…